Will Bunch
It's only August, but the pattern has been pretty much set for the GOP presidential primary for the foreseeable future. Donald Trump has shown himself to be a master of manipulating the media, especially MSNBC and CNN which (from an admittedly small base) have gotten quite the ratings bump from going almost-all-Donald, almost-all-the-time. His rallies and news conferences usually drop at the best possible time -- like 8 p.m. on Friday, when the older folks who actually vote in primaries are home watching TV. One or two Jon Stewart-style, substance-free comedy riffs -- Friday's digression on "perv" Anthony Weiner was pure gold -- and the short-fingered vulgarian has dominated yet another news cycle. Is this a great country or what?
For the 16 Republican Dwarfs not named Trump, each weekend is a mad scramble to say or do something outrageous enough to get the few remaining crumbs of air-time. It is here, among the bottom feeders, that New Jersey Gov. Chris Christie -- clinging by his fingernails to his slot in the GOP's just-barely-ready-for-prime-time Top 10 -- has been making his play. You remember Christie: He was going to be like Trump, saying outrageous things and speaking for the angry "little guy," before we realized there was going to be an actual Trump. Except that people find the real Trump, with his comic riffs on Weiner or Lindsey Graham or whoever, to be highly entertaining, while Christie's pseudo-Trump -- saying he'd like to punch the teachers' union, for example -- is kind of sad.
This weekend, Christie had a breakthrough idea. Trump's signature -- and arguably only -- policy move is to erect a massive wall to keep Mexicans out of the U.S., and somehow get Mexico to pay for this. A wall?...that is so low-tech, so Han Dynasty, am I right? Christie is a man of the 21st Century -- he said he's going to hire FedEx shipping guru Fred Smith to teach the government how to scan undocumented immigrants and presumably ship them out of the country, when you absolutely, positively have to move Mexicans overnight. Well, something like that.
Will Bunch
Even if it's a reality show pretending to be a presidential campaign, the Summer of Trump -- because it's grown so massive and all-consuming -- has a weird way of accidentally raising important issues. That's especially true about the current sad state of the American news media, which has appeared utterly clueless in its 24/7 Trump bamboozlement.
On Tuesday, a prominent journalist -- Jorge Ramos, the Univision news anchor who probably has more viewers than Scott Pelley (whoever that is) -- cut against the grain and challenged Trump on immigration. Ramos got pushback, literally, from goons working for the short-fingered vulgarian, who briefly even removed the anchorman from the Iowa room where the event was being held. That was appalling...yet not surprising.
Also appalling yet not surprising: The reaction of a big chunk of the media, especially inside the Beltway, which was to support the pseudo-politician over the real journalist, their alleged colleague. Glenn Greenwald -- who has neither journalist training nor the kind of instincts you'd need to get ahead in Washington, which is probably why he broke the biggest story of the 2010s and won a Pulitzer Prize -- did a great job today of breaking it all down:
Will Bunch
Today at the dog park (the best place, I've found, for maintaining sanity...maybe the only place) I found myself thinking about the next blog post. I was still mentally reeling from Tuesday night's brief exposure to cable TV news, which again was all-Trump-all-the-time -- to the point where CNN apparently postponed a Hurricane Katrina article to show the latest blatherings from the short-fingered vulgarian. I was going to write about the fight between Ronnie and The Situation -- I'm sorry, I meant Trump and Jorge Ramos. Some nights it's hard to know if you're watching the campaign to elect America's 45th president or "Jersey Shore," or some new reality thing called "The Apprentice Candidate -- or whether news coverage of the young campaign belongs in the New York Times or Us Weekly at your checkout counter...
Anyway, the thought process was interrupted by the horrific news out of Virginia. The murder of two young journalists -- Alison Parker, 24, and Adam Ward, 27 -- on live TV won't be the only senseless killing today (every hour in America, on average, seven people are shot and three people die by the gun). Nor is it any more awful than so many of the others, like last week's murder -- in Ferguson, Missouri -- of a 9-year-old girl, Jamyla Bolden, who was hit by a bullet as she sat on her bed doing homework. It's all sad and it's all overwhelming -- the violence and the seeming collapse of our political system to deal with this, or anything. Truthfully, someone should politicize today's murders, but not me. I can't do it. I'll just offer my heartfelt condolences to the family and loved ones of Alison and Adam and their journalist colleagues.
I will just note in passing: The center is, yet again, not holding -- even less so than when Joan Didion channeled Yeats a half-century ago. It's probably not a coincidence that this American opera of political farce and .44 caliber tragedy plays out as the Dow sheds a couple of thousands points. The panic on Wall Street has been greeted with mostly calm on Main Street, because everyone knows this is the 1 Percenters' game, and the game is rigged. It's just one more sign that the unraveling is getting faster. The last 24 hours have felt like a bad sequel to Paddy Chayefsky's brilliant-if-talky 1976 "Network," the film that put our country's dueling penchants for violence and mindless entertainment into a satirical blender.
Will Bunch
Why is Pennsylvania so corrupt? It's a question that you hear over and over, right after the latest headline about the Kathleen Kane soap opera, or the latest court appearance by indicted longtime U.S. Rep. Chaka Fattah, or the stunning case against ex-state treasurer Rob McCord, or the plethora of convictions or allegations against state legislators, from Bill DeWeese and John Perzel and Ron "Happy Birthday to Ron Waters" Waters, to the felony conviction of a former state Supreme Court Justice Joan Orie Melvin, to the latest reports there's a probe of the Philadelphia DA's campaign spending. There's a lot more where that came from, but there's only so many hours in the day, right?
It all reminds me of a question that people were asking back when I started working at the Daily News -- 20 years ago this month! Why, people asked in 1995, is Pennsylvania so corrupt. Remember Buddy Cianfrani and Abscam and "money talks, BS walks"? Remember a guy named Vince Fumo? Nothing ever changes around these parts. What is the deal?
We've heard a lot of unsatisfying answers. The political-science eggheads will tell you about the Industrial Revolution and the rise in Pennsylvania of what they call "transactional politics" -- blue-collar folks, recent immigrants, etc., depending on their neighborhood committeeman to help navigate City Hall, and not caring when the bosses took something for themselves. But the Industrial Revolution died 50 years ago. Why is bribery still alive?
Will Bunch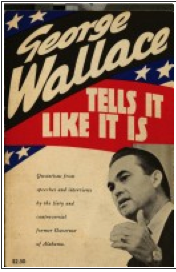 (h/t @KevinMKruse)
In 1968, George Wallace claimed he was "telling it like it is" about race relations in America, or "states' rights," or some such thing -- and he carried five states with 46 electoral votes, as an independent. Not too shabby. How far will Donald Trump go in 2016 by "telling it like it is"? You tell me in the comments below, because I'm tied up on other stuff tonight.
Or explain how President Obama caused the Great Crash of '15. I'm looking forward to reading that!
Will Bunch
Looking back, there were so many things we didn't know -- I didn't know -- on Aug. 29, 2005, the day that Hurricane Katrina slammed into the Gulf Coast near the Louisiana-Mississippi border. At first, we simply didn't understand the true nature of the storm. After Katrina bounced off South Florida and reformed in the Gulf of Mexico, authorities had warned the world that this monster might completely flatten New Orleans with Category 5 winds. That Monday night, at my safe, dry desk at 400 North Broad Street in Philly, where my editors had asked me to assemble a Page 1 story about this killer hellstorm, the first reports said Katrina wasn't as bad as feared. In the next day's paper, I wrote that Katrina had been "a powerful but glancing blow" to the Big Easy.
So much we didn't know.
While most of America was sleeping that first night, the levees broke -- no longer about to hold Katrina's massive storm surge of Gulf water. Throughout Tuesday, Aug. 30, 2005, the water poured from the Industrial Canal, from the 17th Street Levee, and dozens of other break points, ultimately putting an estimated 80 percent of the city under water. Again, it was hard, in real time, to comprehend both what was happening in New Orleans, and why. Only years later, thanks to dogged work by the likes of the performer and New Orleans resident Harry Shearer, and his documentary The Big Uneasy, did we understand that it was really human error -- specifically, shoddy design and care of the levees by the U.S. Army Corps of Engineers -- that had unleashed devastation on a great American city.
Will Bunch
Just last month, I covered a moment that I never, never, ever would have expected when I entered journalism. I was at the Pennsylvania Convention Center taking in a speech on criminal justice reform by the president of the United States...when Barack Obama started talking to attendees at the NAACP national confab about the subject of prison rape.
"We should not tolerate conditions in prison that have no place in any civilized country," the president said. "We should not be tolerating overcrowding in prison. We should not be tolerating gang activity in prison. We should not be tolerating rape in prison, and we shouldn't be making jokes about it in our popular culture. That is no joke. These things are unacceptable."
That impressed me. Speaking out about prison rape jokes isn't a politically popular thing, particularly, and the fact that Obama brought it up seemed to speak to his seriousness in tackling prison reform in his final year-and-a-half in office (although, yes, he should have started this crusade much, much earlier.) After all, a growing number of Americans, myself included, oppose the death penalty as inhuman, even for convicts who've committed gruesome, unforgivable crimes. Prison rape -- victimizing an estimated 60,000 inmates every year -- is much less morally and politically ambiguous than the death penalty. Rape is rape, and it's wrong, period. And it certainly shouldn't be funny, even when the victim did an terrible thing on the outside.
Will Bunch
Here's a quick update on a blog post I wrote last week: The baffling, ongoing war against civil liberties and free speech that is being waged by authorities in and around Ferguson, Missouri. I noted here a few days back that officials in the Show Me State had apparently gained no additional respect for the 1st Amendment in the year since that St. Louis suburb was rocked by unrest over the police killing of an unarmed black 18-year-old. The centerpiece of that argument was a summons issued to two prominent journalists who now stand accused of "trespassing" inside a McDonald's restaurant where they were filing news reports about the protests and the massive, militarized police response.
That was absurd, but this week it was revealed that the charges against the journalists were the proverbial tip of the iceberg. In fact, the once obscure county lawyer for St. Louis County, Peter Krane, has waited a year to lodge criminal charges against scores of protesters -- charges that in many cases are merely a cop's determination that they hadn't obeyed an order to clear the streets within five seconds.