Will Bunch
"I am deeply grateful for your welcome in the name of all Americans. As the son of an immigrant family, I am happy to be a guest in this country, which was largely built by such families."
-- Pope Francis, speaking this morning at the White House with President Obama.
The very first words uttered by Pope Francis on his six-day U.S. odyssey that ends up here in Philadelphia were about immigration. Not that there should be any doubt that -- along with climate change and income inequality -- this is the heart of the holy trinity of issues that really matter to this pontiff right now. He's going to speak a lot more about the immigration issue when he talks in front of Independence Hall on Saturday. He's even slated to meet immigrants -- including some who are undocumented -- during the New York part of the visit.
Will Bunch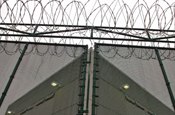 Pope Francis just landed in Washington a few minutes ago, which means he now has as many touch-downs in the United States this week as the anemic Eagles' offense (and he'll pass them when he heads to NYC). It's going to be a hell of a week. From climate change to immigration to (perhaps) social issues like abortion and gay rights, we're sure to hear more from the pontiff about the issues that matter to people than your typical three-hour presidential debate on CNN or Fox.
In some cases, this man from the Vatican by way of Argentina will call attention to things we've (and I'm absolutely including myself) shamefully ignored at home. Like the state of our jails. On Sunday morning, as you may have heard, Francis will be taking a side trip to Philadelphia's Curran-Fromhold Correctional Facility. That inspired the Marshall Project, a new journalism project that focuses on criminal justice and is off to a great start, to write this letter to Pope Francis about some of those things that we've taken for granted:
The numbers don't capture how these jails feel, though. Lawsuits against the conditions at Curran-Fromhold have described how three prisoners are sometimes housed in cells designed for two. The odd man out sleeps in a plastic cot on the floor called a "blue boat." One inmate, Everett Keith Thomas, scribbled on a handwritten federal complaint in October 2014, "I awakened to find mouse feces on my face and blanket in the blue boat." Jail officials say they are careful never to keep an inmate in a triple-cell for more than 45 days.
Will Bunch
This summer, we got a hard lesson in how easy it is to fool the American people -- a sizable chunk of them, anyway -- as well as the media. Especially the media. A leader with almost no experience at the level at which he's competing promised that he would deliver a return to greatness, and people believed him. None of his bizarre moves or pronouncements were questioned by his adoring supporters or by the journalists who were supposed to be subjecting him to intense scrutiny. There were even headlines in the paper that by the time it really counted in February, he could go all the way. Now, people are kicking themselves. How could we all have been duped by such skillful marketing...and by a huckster and a fraud?
But enough about Chip Kelly and the Eagles. I'm here today to talk again about the sorry state of the 2016 presidential race. Although we're still in the first quarter of that game, things are looking about as bleak for the American voters as they did yesterday for the boys in green. The idea of real talk about policies that might help the beleaguered U.S. middle class is getting pushed back like DeMarco Murray on a 1st-down hand-off.
The Republican Party had its second presidential debate at the Reagan Library in California last week, and it was a disgraceful affair on several levels. One of the problems was only partially the fault of the candidates. There was shockingly little talk about the kind of things that regular people care about, the stuff they ask politicians when they get to pose the questions. Like how come we never get a pay raise? How will I ever afford to send my kids to college? Or get time off to care for a sick family member?
Will Bunch
There's not much dispute that Donald Trump -- with his talk of undocumented Mexican immigrants as rapists and murderers and his plan to force 11 million men, women and children back across the border, not to mention "the wall," which seems like his only actual policy position -- is the embodiment of how toxic the debate over border politics has become. It feels like it's always been that way, certainly since the talk radio folks riled up the masses to shoot down immigration reform in the mid-2000s. Anyone still remember Geno's in South Philly and "This is America -- please speak English!"?
Yet it wasn't always thus. You may have heard it brought up -- as one of the many reasons that Ronald Reagan was probably too liberal for today's Republican Party -- that the Gipper signed legislation in the late 1980s that provided amnesty to about 3 million undocumented immigrants. But there was much more to it than that. This weekend, a video resurfaced and made the rounds of a 1980 GOP presidential primary debate between Reagan and the man who later became his vice president and then his successor, George H.W. Bush. (Trivial aside: It was a League of Women Voters forum and the moderator was Howard K. Smith, who also moderated the famous first Kennedy-Nixon debate in 1960.)
A young man in the audience asked Bush and Reagan whether "illegal aliens" should be allowed to attend Texas schools for free. To get the full flavor of the response, please watch the video I've posted below. However, here's a teaser of what they had to say. Bush said that undocumented arrivals in America "should get what's been promised to their neighbors" and that "these are good people, strong people...one of my family is a Mexican!" Reagan, for his part, says that we should not be "talking about putting up a fence" and that instead "we should open the border up both ways."
Will Bunch
Donald Trump was on the campaign trail in New Hampshire today, when a town hall questioner asked the short-fingered vulgarian if he knew that President Obama is a Muslim and not an American. You'll be shocked to know that our 45th president-in-waiting failed to blink, let alone correct the questioner.
Is this so hard? I mean, even John McCain can do it (see below).
And have a great weekend.
Will Bunch
Just the other day, we were talking about the 14th anniversary of 9/11, and whether it's still necessary for the president to declare a "state of emergency," year after year after year. But then, the reality is that whether it's President Bush, President Obama, President Sanders or President Pataki,, the next commander-in-chief won't erase the national state of pure unbridled paranoia that has planted itself since the hopeful dawn of the new millennium.
In countless ways, large and small, Americans' view of the world tilts too often toward fear and away from hope. Take the looming arrival here in Pope Francis here in Philadelphia towards the end of the month. The Secret Service has worked hand in glove with City Hall to help us view our visit from the Vatican as less a time of spiritual uplift and more as a "national security event" where the most sacred relic is a magnetometer. To some degree, I'm criticizing the tone, especially in the earlier days of planning, rather than all of the actual measures; anyone who remembers the assassination attempt on Pope John Paul II in 1981 knows the importance of safety measures and preparation. This weekend, though, the fog of paranoia suddenly grew thick.
Sunday night, the Big Story locally on Channel 6 Action News (usually, on the weekend, the big story is something like, "Our unusually pleasant summer weather!") was that authorities had "disputed" an otherwise unspecified plot against the papal visit to Philadelphia. There was no "who," no "where," no "when," and no "why"...just a pretty lame "what." It wasn't so much a story as a bleat of vague terror. It felt like the mid-2000s all over again. How many times did Homeland Security raise the threat level to "orange" based on unspecified information? This is literally news you can't use. It's not clear how citizens are supposed to respond to this kind of information -- other than perhaps to become more docile, and do whatever the nice people in uniforms or positions of authority say.
Will Bunch
I went to Virginia to find the real Bernie Sanders. You won't believe what happened next.
Will Bunch
I'm sure it was Dean Martin, or somebody, who said once, "Every day is the anniversary of something." Or at least it's come to seem that way, after more than a half-century of media-drenched post-war culture, all celebrated now on the 5th, 10th, 25th, 40th and 50th anniversary, and sometimes more often than that. That said, I personally don't mind anniversary stories, especially in an era of limitless pixels. It helps to understand where you are sometimes -- by reconsidering where you used to be.
Thursday marks the 4th anniversary of the Occupy Wall Street protests, which started in Lower Manhattan on a balmy Saturday, eventually spread to Philadelphia and several hundred cities and towns, across the country and around the world -- and was all but gone by the chilling winds of Thanksgiving.
First they ignored it, as NYC cops ringed the famous Charging Bull near the Battery and blockaded Wall Street itself, thwarting a mid-sized band of rebels in their scheme to protest income inequality and other grievances by occupying the main thoroughfare of American usury. Then, after a brief period of euphoria -- finding a home in Zuccotti Park and drawing thousands of like-minded souls to their communal, if somewhat vague, cause -- they ridiculed it, as a lynch mob of talk-radio hosts and other pundits fell back on the old "dirty smelly hippie" canard (the same tired schtick that turned Ronald Reagan from a 'B' actor to a governor and then a president). Then, finally, they fought it -- driving out the last of the Occupy protesters in midnight raids, police arresting some on bogus pretenses.