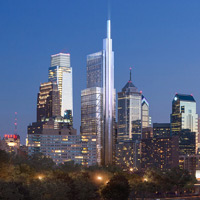 It was just a couple of days ago that I was reading an alarming allegation about Philadelphia's largest corporation, Comcast. Customers of the nation's largest cable and Internet provider in different corners of America were reporting the same problems with loading and watching movies on Netflix. (And right when the new season of "House of Cards" is looming?...are you kidding me?). The customers all voiced the same concern that Comcast --, with its own movie-on-demand service that (poorly) competes with Netflix -- wants to throttle its rival and speed up growth of its own service.
After all, it was just last month that a court struck down a key FCC rule that had protected "net neutrality" -- the notion that cable providers should treat all websites equally and not play favorites, or, potentially in the case of Comcast and Netflix, un-favorites. Now Comcast has completely denied that throttling of Netflix is happening (despite the chart with this article showing much slower speeds), and with good reason, as it promised federal regulators that it would honor net neutrality through 2018 as part of winning their approval to swallow NBC-Universal.
Picture of hippies? Check.
Something liberal? Check.
Actually not a fire, but some kind of crazy sprinkler system emergency or something made me evacuate the newsroom at 8th and Market...so sorry for the light posting. Say something terrible about President Obama in the space below and we'll try again tomorrow.
Give them some credit, I guess -- they're putting it all out there. The guy trying to crush strong unions and a middle-class lifestyle in Tennessee is the same guy who gave us the Ronald Reagan Legacy Project...there's a surprise.
In a related development, I'm tied up on a story about why there's so much poverty. More later.
Kris Kristofferson, with a little help from his friend Janis Joplin, told us that "freedom" is just another word for nothing left to lose - but that was before American capitalism grasped hold of it. And then there's "patriot" -- a great word that a radical minority called the Tea Party has tried to hijack. But today West Virginians -- and all of America, really -- should be asking themselves: Why is this Patriot, and why is this Freedom, trying to poison our water and poison us:
CHARLESTON, W.Va. -- More than 100,000 gallons of coal slurry poured into an eastern Kanawha County stream Tuesday in what officials were calling a "significant spill" from a Patriot Coal processing facility.
Emergency officials and environmental inspectors said that roughly six miles of Fields Creek had been blackened and that a smaller amount of the slurry made it into the Kanawha River near Chesapeake.
We'll see who has the last laugh, when you're all working for me.*
* OK, probably not.
I'm sure the picture at the top of this post needs no introduction. After all, the so-called "Moral March" this past Saturday in Raleigh, the North Carolina capital, was a landmark event -- the largest protest rally in the American South in 49 years, since Dr. Martin Luther King and the iconic Selma-to-Montgomery march in 1965, which successfully pressured Washington to enact the Voting Rights Act.
What's that? You didn't hear about the "Moral March"? Well, that's possible. I looked for coverage of this fairly significant event on the website of record, NYTimes.com, and didn't see anything significant there or on other major mainstream media sites. Of course, the media barely covered even larger protests against the Iraq War in 2003, so maybe that's not so surprising. Still, the media is ignoring the so-called "Moral Monday" movement in North Carolina at its own peril.