One hundred years ago, the Great War was fought with Gatling guns and biplanes. Today, global conflict is over the keyboard and the drawing pen. Here's the news article based on the carnage in Paris that I wrote for today's Daily News.
One glitch was that one of the nation's leading experts on free speech issues, Kyu Ho Youm from the University of Oregon, who's currently visiting at Nanyang Technological University in Singapore, got back to me just a little bit after deadline. But I thought his responses to my emailed questions were so interesting that I'd publish them here (with several passages highlighted):
1) Is "Free expression" becoming the global war of the 21st Century?
This was the most recent (but hopefully not the last) image sent out on Twitter by a French left-wing, anti-religious magazine called Charlie Hebdo. It shows the leader of ISIS, Abu Bakr al-Baghdadi, and for an explanation (of sorts) here's a little more. It may or not have been the last straw for a band of armed thugs and losers who've complained for years about cartoons satirizing Islamic extremism and who burst into the magazine's Paris office today and killed 12 people -- including some of best-known satirical cartoonists in France -- and wounded eight more. It was not only one of the worst terror attacks in the West in recent years, it was the most heinous assault on the practice of journalism I can remember.
I certainly have a lot of thoughts on this, and so do you, but as often with the case on a big international story I've a little jammed pulling together something for tomorrow's newspaper. For now, know that this is a barbaric attack not just on journalism but on the basic rights we all share -- to express our opinions freely. I'm outraged and horrified -- my condolences to the loved ones and friends of those who died, to the wounded, and to the people of France. Those who continued to express their views in the face of terroristic threats (including a 2011 firebombing) are true heroes, and their killers are a bunch of gutless cowards.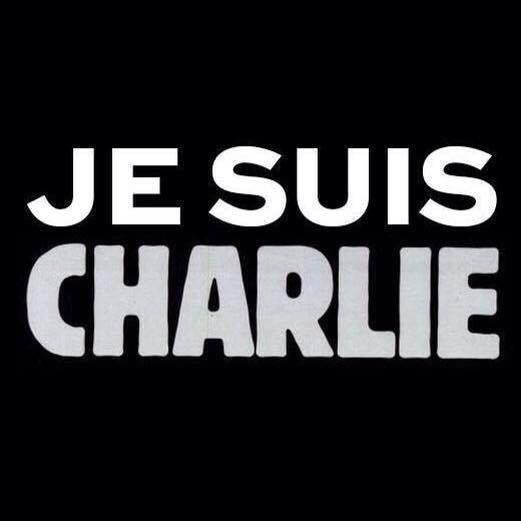 For guy whose job largely involves writing about politics, I'm really coming to dread elections. Take the 2016 presidential race...please. Of course, all kinds of crazy things ($1-a-gallon gas, ExxonMobil filing for bankruptcy) could shake things up between now and the '16 conventions, but it's hard to avoid the dreadful feeling that Jeb Bush and Hillary Clinton will be our major-party nominees. I'll already beginning my research on which countries offer political asylum to Americans.
Today, Bush (do we just call him Jeb? John E.? Bush 45?) took his nascient campaign to Facebook, and it was a bad day at BlackRock. Literally...as he made his pitch to the common man by posing in front of a Wall Street investment house called BlackRock. He also said that income inequality is a problem (ya think?) but that it can be solved with "conservative principles." Perhaps -- I mean, conservative principles caused income inequality in the first place, right? I'd say Clinton 45 had a better day, but who knows what she's up to...probably speaking at some university that pays her $300,000 and sorts out the green M&Ms for her.
Oy.
A part of me wants to do something that goes against every ossifying bone in my body...which is to say, "Thank you, Chris Christie!" Why? I think we can all agree there's been a lot of grim news in recent weeks, but for a few glorious moments on a Sunday night, New Jersey's Big Orange Machine did the seemingly impossible: He made politics fun again. As painful as it was to see the Cowboys win a seemingly rigged NFL playoff game, that anguish was quickly subsumed when Christie went all Mary-Tyler-Moore-Show-finale with Cowboys' owner Jerry Jones and some other dude inside Jones' posh luxury box.
Open a window and you could hear the curse words shouted from here to Parsippany, loud enough to drown out the giant sucking sound of Christie's New Jersey approval rating going down the toilet. That's because there are two NFL franchises that are beloved by Christie's constituents, the Eagles and the Giants (the Jets are actually a Long Island team that was placed in the Witness Protection Program) and the only thing the Eagles and the Giants share is a mutual, intense loathing of all things D, as in Dallas.
The New Jersey governor says he's just being true to himself, that he started rooting for Dallas as a kid in the 1970s, when the Super Bowl-going Cowboys branded themselves "America's Team" (and when the Birds and the Giants shared something else...suckiness). He says he's that rare, true-to-himself pol who won't pander and lie to voters about his sports allegiances. OK, then. Of course, one could also say that rooting for a team 1,000 miles away simply because they are winning is a callous, immature act, the sign of a kid who will grow up to be a spoiled, front-running bully. Whatever...
Not officially, but...seriously?
How do you spot a brand-new police chief? Consider the case of Cameron McLay, who was named police chief in Pittsburgh on September 15, less than four months ago. A former police captain in Madison, Wisconsin, and an expert on police leadership issues, McLay's specialty is fostering better ties between cops and the communities where they walk the beat. In Madison, according to the Pittsburgh City Paper, he was known for getting personally involved in tense incidents, and for meeting frequently with local non-profits and other community groups interested in better relations.
In these times of unrest over police-involved deaths from New York to Ferguson, Mo., to L.A., Cameron McLay sounds too good to be true for the citizens of Pittsburgh, another large city where policing issues have sparked controversy.
Maybe he is too good to be true.
I already know what you're thinking...not another piece celebrating the midway point of the 2010s. You know -- our crazy decade. The one that everyone calls the Terrible Teens. Or is the Roaring Tens -- I'm not sure. The decade we'll always remember for that song. You know, that one that you heard in the supermarket aisle a couple of times. And that magical night that everyone in America stayed up late to all watch the same movie on Netflix.
OK, who am I kidding? We just killed off half of this so-called decade without a single person noticing. Even on social media, where I spend way too much of my time, I didn't see any mention of the 2010s passing the five-year mark, or any listing of the best songs or films or Twitter one-liners of the half-decade, or whatever. That's no surprise. How often does anyone mention "the 2010s" -- period?
The death of decades isn't a new phenomenon. Much was made during the 2000s about that decade's lack of either a defined identity or even an agreed-on name. (The English, it should be noted, sometimes call that decade "The Aughts"...a phrase so fingernails-on-blackboard-y British that any American who ever utters it should have his citizenship revoked.) I commented on this once and several folks emailed to insist that this same awkwardness happened in the first two decades of the 20th Century. Perhaps that's true. You certainly hear more about the Gay (18)'90s and the Roaring '20s more than the years between them, even though stuff happened (remember World War I? -- it was in all of the papers.)