Archive: May, 2012
Will Bunch
It was a day for remembering, a day for waving flags, bowing heads and playing Taps, clear and true, across the cemetery, where veterans and others gathered at the end of the parade route for a short memorial service.
Will Bunch
Once upon a time, the New Orleans Times-Picayune wasn't able to publish a newspaper every day. You may have heard about it: Hurricane Katrina. The year was 2005 and people knew even less about getting news to folks over the Internet -- but that's what the intrepid staff of one America's great newspapers did, as best as they could. And did it ever work.
The Times-Picayune newsroom -- and its relentless push to get the story out through any channel it could -- saved lives:
Will Bunch
Mitt Romney showed his hair briefly at a West Philadelphia charter school this morning to tout his plan for education, which he calls "the civil rights issue of our time." You could make that argument, but Romney has a bizarre way of addressing that. Like, do you remember that time when Martin Luther King marched on Washington so that bankers could get a bigger cut of fair housing programs for America's poor? Me, neither.
Even by the ultra-cynical standards of the Romney campaign so far, the presumptious nominee's education plan is pure snake oil, his latest "Romney Hood" scam that takes even more from the poor and the middle class and gives to his rich NASCAR-team-owning friends:
Will Bunch
Actually, I wasn't referring to baseball, but to this:
Did you hear the one about the New York state lawmakers who forgot about the First Amendment in the name of combating cyberbullying and "baseless political attacks"? Proposed legislation in both chambers would require New York-based websites, such as blogs and newspapers, to "remove any comments posted on his or her website by an anonymous poster unless such anonymous poster agrees to attach his or her name to the post."
Will Bunch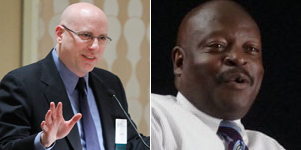 UPDATE: Days in.
Michael Days, the popular editor who ran the Daily News from 2005 until early last year, is back at the helm.
Will Bunch
I think I've mentioned this before, but watching Fox News a lot actually makes you dumber. Now, researchers have confirmed it:
The largest effect is that of Fox News: all else being equal, someone who watched only Fox News would be expected to answer just 1.04 domestic questions correctly -- a figure which is significantly worse than if they had reported watching no media at all. On the other hand, if they listened only to NPR, they would be expected to answer 1.51 questions correctly; viewers of Sunday morning talk shows fare similarly well. And people watching only The Daily Show with Jon Stewart could answer about 1.42 questions correctly.
Will Bunch
Interesting take on the neverending Bainapalooza:
On the other hand, I don't think Mitt Romney can legitimately say that he learned anything about how to create jobs in the LBO [leveraged buy-out] business. The LBO business is about how to strip cash out of old, long-in-the-tooth companies and how to make short-term profits.
The ironic twist is who said this: Ronald Reagan's budget director.
Will Bunch
Is this what they mean by "Do A.C."? Also, has anyone ever read a provocative newspaper headline or article and said, "Start up my subscription!!!"? That's not totally a rhetorical question, although I think I know the answer.