Philadelphia spends millions of dollars to tell the world -- tourists, young entrepreneurs, expansion-minded CEOs -- why they should come here. And they make a pretty good case -- a bustling Center City and a growing roster of hip neighborhoods, one of the best restaurant scenes in America, arts and culture, Fairmount Park and the ever-expanding Schuylkill Trail, world-class universities, winning sports teams, all at a cheaper cost of living than New York, D.C. or Boston.
Unfortunately, when you sell Philly to the outside world, you a) gotta take the bad with the good and b) remember that, especially in this corner of the globe, no other media outlet has more influence than The New York Times. And when readers picked up (or clicked on) the Times this morning, they saw kids running across cracked asphalt on a faded school yard. In Philadelphia.
As they say in those omnipresent ads....XOXO?
My bio on the upper right of this blog claims that I blog here about my "obsessions," one of which is soccer. Luckily for you, that's mostly false...I have Twitter now to rant about the many various screw-ups of the Philadelphia Union, Liverpool or the United States (men's soccer, I mean...I strill do rant about the screw-ups of the actual United States here on the blog, of course). But there's a sports situation in this town that's so egregious that I have to weigh in.
For well over a decade, thousands of soccer die-hards here in Philadelphia wanted Major League Soccer to come here in the worst way.
In a way, that's exactly what has happened.
UPDATE: Action deferred. Heh.
The Chris Christie administration is at it again -- doling out a huge tax break to a company that's pledging to create, or at least keep, a bunch of jobs in New Jersey. This time, according to a report in the Inquirer, the recipient will be the giant defense contractor Lockheed Martin, in line to get more than $100 million in tax credits for some type of new facility -- there's been no formal announcement yet -- in Camden.
On one hand, if there's any city in America that's in need of economic aid, it's poor, struggling Camden. But as we've seen in the past -- most notably with a recent Christie administration $82 million handout for the Philadelphia 76ers -- these projects tend to create few actual jobs for the poor, struggling people who actually live in Camden. Often, it's questionable whether the money was really needed for the company to expand or to move, sometimes just a few miles. Yet economic development tax breaks like this one have been the cornerstone of one of the worst job-creation strategies in America. Surveys have shown the Garden State under Christie near the bottom in job growth, while the things that actually fuel growth -- good schools, new infrastructure -- get short shrift.
As we were saying the other day, it sure looked fishy when the School Reform Commission pulled off that sneaky early morning meeting to kill its union contract with the teachers' union -- almost like it had something to hide. Now perhaps we know why. The always outstanding Philadelphia Public School Notebook crunched the numbers....and things don't add up! Check it out.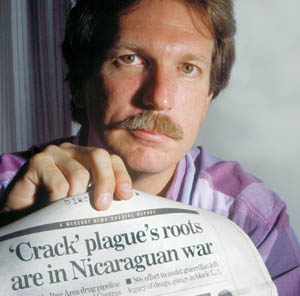 I cut out on my Saturday chores this weekend to spend a couple of hours watching "Kill the Messenger," the big-screen re-telling of the sad story of the California journalist Gary Webb. It was Webb (pictured at top) who poked a giant hornet's nest in 1996 when he reported that the CIA turned a blind eye to government-backed right-wing rebels in Nicaragua who raised millions of dollars by shipping cocaine to U.S. cities at the dawn of the crack epidemic.
That article – dinged up but never disproved in the 18 years since it appeared in the San Jose Mercury-News – was a huge indictment of American policies in the Reagan era. But the much bigger story here, and the one that still echoes in the age of Obama, is how "the establishment" conspired to crush Webb like so much roadkill, and how journalists from the nation's elite news organizations practically tripped over each over in a race to do the bidding of the U.S. intelligence community to trash Webb's reporting. The reality is that while some of the story's packaging was a bit overhyped (mostly the fault not of Webb but his bosses), the contents of the package were affirmed again and again, first by the CIA inspector general and as recently as this weekend in some solid reporting in the Huffington Post (here and here.)
You could call this Hollywood redemption song for Webb – played superbly by the talented Jeremy Renner --"bittersweet," except the aftertaste mostly carries the sting of a raw lemon, and no sugar. The film must carry the anchor weight of knowing that Webb eventually committed suicide a decade ago, money-troubled and still heartbroken over the fact that the Beltway establishment had killed his career in journalism, the only thing in life he wanted to do. There is one line from "Kill the Messenger" echoes as you walk quietly out of the theater: The government source who tries vainly to warn Webb away, saying: "Some stories are just too true to tell."
...read this one. Then go out and enjoy a beautiful fall day.
My favorite Gary Larson cartoon (except maybe for the one where the cow cuts in line at the slaughterhouse) is this one: The difference between "what we say to dogs" (i.e., a long lecture to "Ginger" to stay out of the garbage) and "what dogs hear" ("blah blah blah Ginger"). It reminds me a lot of the 2014 midterm election, the lamest election I've seen yet in a long lifetime of increasingly lame elections. Once upon a time, there was at least a correlation between how people voted and actual policy results, especially on the economy (just check out Ford, Carter or Bush 41 on how that worked on the downside, or Reagan and Clinton on how that worked to the upside).
Reality and Barack Obama have a complicated relationship, though. In the multiple prisms through which we judge our presidents, POTUS 44 has been profoundly disappointing in a couple of key ones. One, broadly, is foreign policy, but especially the central issue of the strife-ridden lands that stretch from Libya to Afghanistan. Obama promised a fresh start -- but we've been trapped in the same bomb-rinse-repeat cycle of his predecessors, and at the same time he's expanded the abuses of the national security state instead of curtailing them. The other problem is a matter of style. Like many folks from our half-assed generation who've risen to power, Obama actually believes that rationality trumps emotion, and his style was already flat in Year One of his presidency. In Year Six, Obama can be painful to watch, even when he's announcing good news.
That said, this Reagan fellow was onto something when he boiled American politics down to the basic, "Are you better off now than you were four years ago?" On the economy, think of where we were six years ago! Since Bush 43 left office, joblessness has plunged, and the stock market has soared. And so far, "Obamacare" has been conservatives' worst nightmare....a success. Paul Krugman (say what you will, but in '08 he was a thinly disguised Clinton fan deeply skeptical of Obama) wrote a long cover story for Rolling Stone breaking down the positives of the current POTUS. Here's one excerpt:
Meet Judi Feingold. She's 63, lives in Oregon and currently volunteers as a hospice worker after a lifetime of moving around -- much of it necessitated by what happened one memorable night in March 1971, right here in Delaware County. You've surely never heard of Feingold, and I never heard of her before yesterday, but she is an American hero nonetheless.
You may remember that back in January, most of the surviving members of a team of anti-war activists who burglarized a small FBI office in the Delco county seat of Media (in the building pictured at top) and stole a treasure trove of documents some 43 years ago decided to go public with their identities. The group featured a couple of prominent Philadelphia-area academics, including Temple University prof John Raines, his wife Bonnie, and leader William Davidon, a Haverford College physics professor who died last year.
As I noted when I blogged about the revelations earlier this year, this type of burglary could be called an extreme act of civil disobedience, the kind of thing that could only be morally justified in extreme times. But that was the time that Judi Feingold and her cohorts found herselves in -- America in the Vietnam era. The FBI -- and other government agencies -- were engaged in their own massive campaign of unlawful surveillance, break-ins, and efforts to disrupt peaceful and legitimate dissent against the war, racial discrimination, and other types of injustice. The documents that the Media FBI burglars stole and funneled to journalists revealed the existence of the agency's illegal spying program called COINTELPRO, even an FBI effort to convince Dr. Martin Luther King to commit suicide.