There's been so much excitement -- OK, in one case a little too much excitement -- about citizens taking to the street all over the world. In Kiev, it's getting harder to remember those halcyon days of a few weeks ago, but in those early moments the Ukrainian protesters were motivated by a desire for a better economy, through trade ties with the West and later the freedom to protest their government. In Venezuela, we're seeing middle-class protesters with legitimate grievances against the elected leftist government, which is far too repressive against the press, free assembly and other basic freedoms.
But what about here in the U.S. of A.? It's far too early to talk about an American Spring -- not with several inches of snow still on the ground (damn you, vortex!). But the green shoots of protest are suddenly visible, more so than any moment since the now-you-see-it-now-you-don't Occupy movement in 2011. A few weeks ago, I wrote about the rise of the Moral Monday movement in North Carolina and across the red South,and then yesterday nearly 400 folks were arrested in Washington, begging President Obama to make a stand on climate change and reject the Keystone XL pipeline.
In 1959, Nikita Kruschchev famously wasn't allowed to go to Disneyland -- he did get to see the set of "Can-Can" with Shirley McLaine (above) -- and now one of these suggested 5 non-military responses to Russia's invasion of Crimea is to impose a travel ban on Putin and his family that would cover the entire United States (except for the UN, of course).
OK, it's not much -- do you have a better idea? Pick up the Disqus and give it a toss, in the comments below:
OK, maybe by this point you won't be shocked to learn that the Port Authority of New York and New Jersey was a cesspool of corruption, patronage, etc., after the ascension of Chris Christie in 2010, but the campaign to extract hundreds of millions of dollars from unwitting motorists and then abuse that money for political ends would have even made Machiavelli blush.
Shawn Boburg of the Bergen Record -- who just won a prestigious Polk Award for his coverage of the George Washington Bridge fiasco and could well win a Pulitzer -- blew the lid today off the scandal behind the scandal behind the scandal.
If the election for Pennsylvania governor were held today...that would be really weird, as it's a Thursday in late February. But if that did happen, a guy that many of you never heard of a few weeks ago -- Central Pennsylvania businessman and former state revenue commissioner Tom Wolf -- would certainly be elected the state's 47th governor.
Look at the polls that came out this week. The once little-known Wolf is obliterating his seven (at least it was seven the last time I checked five minutes ago, it's probably changed once or twice since then) Democratic primary rivals, and then in a head-to-head match up with Unpopular Republican Governor (his official title, apparently) Tom Corbett, he's winning by nearly 20 points.
Talk about a mess...Can you imagine a large, industrialized nation with two distinct regions, one that reliably votes for one party in presidential elections and one that reliably votes for the other, with cultural difference so profound that they literally cannot understand what the other is saying. One half of a nation looking toward a progressive future, the other looking back longingly on the authoritarian past.
But enough about the United States.
I was off yesterday -- how's the new commenting system (that I didn't know was coming) working out?
OK, OK, Ed Snider's Flyers are surely profitable, and -- as some commenters will quickly point out if I don't -- he does some praiseworthy philanthropic work in the community. But his burning passion for Ayn Rand hasn't opened up the "fountainhead" of champagne for winning Stanley Cups -- it's been 14,155 days since Snider's icemen have cometh up with hockey's grand prize.
But you have to read the amazing story of the CEO who based his entire business model on Ayn Rand == and destroyed one of America's once great companies, Sears.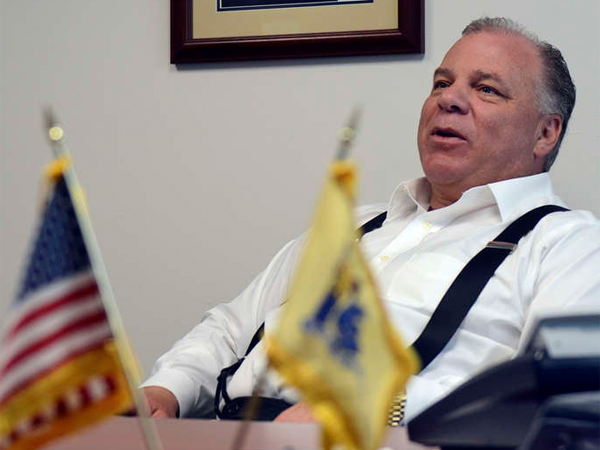 It seems like it was just the other day (UPDATE: It was) that we were talking about the allegations of violence and generally thuggish behavior against the local Iron Workers union here in Philadelphia. With its top leaders under indictment, the local has made a rather, um, intriguing choice to run things at the Philly chapter: New Jersey Senate President Steve Sweeney, who has a long history of personal and family ties to the Iron Workers.
Kind of ironic. For the last four years, Sweeney and some of his allies in the Democratic political leadership of New Jersey have been silent partners in the bullying political tactics of the Republican governor, Chris Christie. Now, he'll be running a union local accused of taking thuggery to the next level. Is this what they mean when they talk about a "lateral career move"?