Talk about a mess...Can you imagine a large, industrialized nation with two distinct regions, one that reliably votes for one party in presidential elections and one that reliably votes for the other, with cultural difference so profound that they literally cannot understand what the other is saying. One half of a nation looking toward a progressive future, the other looking back longingly on the authoritarian past.
But enough about the United States.
I was off yesterday -- how's the new commenting system (that I didn't know was coming) working out?
OK, OK, Ed Snider's Flyers are surely profitable, and -- as some commenters will quickly point out if I don't -- he does some praiseworthy philanthropic work in the community. But his burning passion for Ayn Rand hasn't opened up the "fountainhead" of champagne for winning Stanley Cups -- it's been 14,155 days since Snider's icemen have cometh up with hockey's grand prize.
But you have to read the amazing story of the CEO who based his entire business model on Ayn Rand == and destroyed one of America's once great companies, Sears.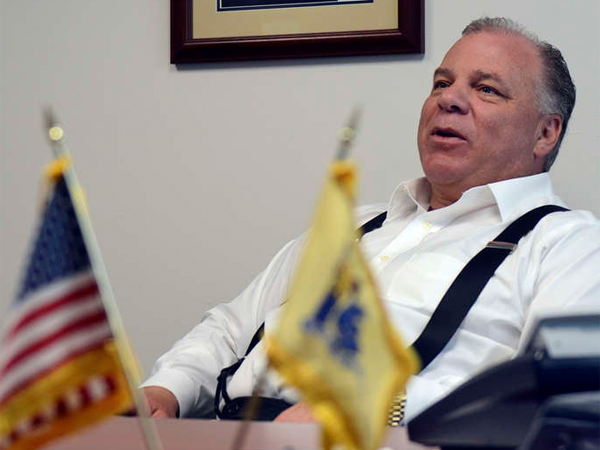 It seems like it was just the other day (UPDATE: It was) that we were talking about the allegations of violence and generally thuggish behavior against the local Iron Workers union here in Philadelphia. With its top leaders under indictment, the local has made a rather, um, intriguing choice to run things at the Philly chapter: New Jersey Senate President Steve Sweeney, who has a long history of personal and family ties to the Iron Workers.
Kind of ironic. For the last four years, Sweeney and some of his allies in the Democratic political leadership of New Jersey have been silent partners in the bullying political tactics of the Republican governor, Chris Christie. Now, he'll be running a union local accused of taking thuggery to the next level. Is this what they mean when they talk about a "lateral career move"?
There's been a lot of talk here recently about income inequality, and with good reason. Without a solid and healthy middle class, America is sapped of its strength. That's why things like a minimum wage, fixing the nation's infrastructure, and a sensible energy strategy focused on increasing renewable fuels are so important. But there's a flip side of the equation that can help make these things happen: Right-sizing the American military -- and the footprint of American militarism around the world.
Here, there are hopeful signs of progress:
Fracking pizza blowback?
The story I told you about last week and that (go figure) got picked up all over the world -- Chevron's sorry-we-blew-up-your-rural-community-here's-a-free-pizza (and a 2-liter soda!) offer -- is shaping up as one of the worst PR blunders in U.S. corporate history, which is really saying a lot.
And now there's this:
Remember the 2000 presidential campaign and the whole flap about "fuzzy math"? Those were the days, huh? In the 2010s, America's political math is not fuzzy but hard, cruel to the point of nearly inhuman, and so unrooted in common sense it makes the Flat Earth Society look like the National Academy of Science.
You've probably heard that last week the non-partisan Congressional Budget Office came out with a report on the proposal -- backed by President Obama and most Democrats on Capitol Hill -- to raise the federal minimum wage to $10.10 an hour. Most places you looked, the headline was about jobs. The CBO -- a body that I have a lot of respect for, and still do -- found that one effect of a minimum wage hike would be to cause some employers to trim their payroll. Their rough estimate was that raising the minimum wage could cost 500,000 jobs nationwide -- although maybe as many as 1 million, and maybe none at all.