...is more like this guy, actor James Garner, who passed away Sunday at the age of 86. He was a man who was not afraid -- attending the now iconic 1963 March on Washington for civil rights, where this picture of him holding hands with actress Diahann Carroll was taken, even after the FBI called up Hollywood stars and begged them not to attend ("for their safety"...right). And who was not afraid to say what he thought. Check out this interview when he published his memoirs in 2011:
"Too many actors have run for office," he writes. "There's one difference between me and them: I know I'm not qualified. In my opinion, Arnold Schwarzenegger wasn't qualified to be governor of California. Ronald Reagan wasn't qualified to be governor, let alone president. I was a vice president of the Screen Actors Guild when he was its president. My duties consisted of attending meetings and voting. The only thing I remember is that Ronnie never had an original thought and that we had to tell him what to say. That's no way to run a union, let along a state or a country."
Garner writes that he was asked to run for Congress in 1962 as a Republican, and "it didn't stop them when I told them I was a Democrat. …They just thought I could win." In 1990, Democratic leaders approached him about running for governor of California, but the discussion got to the issue of abortion and Garner says he answered, "I don't have an opinion, because that's up to the woman. It has nothing to do with me." The conversation pretty much stopped there.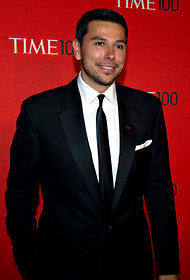 UPDATE: He's baaaaaack. I'd like to think the social media uproar, of which this was a tiny drop in the ocean, had something to do with that.
Yesterday in writing about the bomb attack that killed four boys on a beach in Gaza City, I noted that a journalist had even kicked a soccer ball around with the boys, minutes before he watched their death. You might expect that witnessing such a tragic and emotional story would have been considered a reporting coup by Ayman Mohyeldin's bosses at NBC News. which of course is owned by Philadelphia-based Comcast. Instead, NBC yanked Mohyeldin from the war-torn region and had another reporter who was not there do the story on NBC Nightly News.
Why?
Last night I asked readers for their emails on the crisis in Gaza, which -- although somewhat lost amid the hoopla over the downed flight in Ukraine -- is worsening at this hour, with Israeli troops now launch an land invasion of the troubled region. Here's excerpts of what some of you had to say -- emails are re-printed with confirmed permission and an option for anonymity. Here goes:
1. Do you consider the consolidation of Hamas and the Palestinian Authority to work together for peace as provocation? Or, do you still consider the "official" story of the three kidnapped Israeli teens as the provocation? Do you know that another group came forward and claimed responsibility? Do you know that Netanyahu knew the kids were dead for several weeks and sat on it in order to prepare for this pre-meditated onslaught that is currently happening?
-- Anonymous
In this region, only Russia has the capability to shoot down a plane at 30,000 feet, and only Russia-backed rebels a) could get access to these kind of Buk missiles and b) are dumb enough to use them to shoot down a commercial jet. If Russia doesn't use its influence to end these hostilities immediately, there should be consequences for Russia in the world community
GAZA CITY — Four young Palestinian boys were killed Wednesday when two explosions hit a jetty and beach where they were playing at the fishing port of Gaza City, an area that had been considered relatively safe from the intense Israeli bombing campaign of the past nine days.
More detail:
My congressman, Pat Meehan, seems like a nice enough chap, the kind of politician that -- if I may be allowed to coin a new phrase here -- you'd like to have a beer with. Had he been elected to Congress 40 years ago, my sense (and I could be wrong, I often am) is that he's be an ultra-moderate, Rockefeller-style middle-of-the-road Repuiblican. However, he was elected in 2010, the year of the Tea Party, and so instead he spends most of his day doing things like voting repeatedly repeal Obamacare, even as some of his constituents are finally gaining health insurance. He's fully earned his share of the blame for some of the least productive sessions in Congress in American history.
But no more!
Here, in its entirety, is press release sent out today by the Delaware County rep, a press release that may go down in the annals, if you will, of congressional press releases:
It's kind of funny that with all the debate about "papers, please" policies in border states like Arizona, it never got mentioned that places like McAllen, Texas, were already checkpoint-laden "constitution-free zones" where the cherished American right of free movement is illusory. My former Daily News colleague Jose Antonio Vargas, now arguably the nation's leading immigration advocate, learned that the hard way yesterday:
THREE YEARS AGO, Jose Antonio Vargas was a 30-year-old with the kind of career that most young journalists only dream of - a share of a Pulitzer Prize with the Washington Post, a coveted byline in the New Yorker - when he decided to risk everything on the truth.
The former Daily News intern confessed in a magazine article that he's been in the United States as an undocumented immigrant - brought here without papers from the Philippines at age 12 - and then announced he was leaving journalism to fight as an activist for the rights of some 12 million people who share his plight.
MSNBC launched a new show yesterday -- hosted by Jose Diaz-Balart, a Cuban-American journalist best known for his work on Telemundo -- and for Day One he did something that should be commonplace but was actually remarkable: Instead of some blathering congressperson, he interviewed a young woman, Maria, who fled the violence in Central America. It's important -- check it out, and I'll be back before the end of the day with more news on the undocumented immigration front.