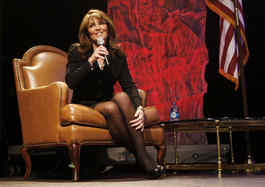 So I wasn't sure what I was getting into when I took off for Nashville (and I wasn't sure if I'd ever return to snowpocalypsed Philadelphia, although I'm optimistically at the Nashville airport now). Long story short, I'm pretty sure I witnessed the start of the 2012 presidential race -- unless someone comes along for Sarah Palin with a better-paying gig. Here's my report:
NASHVILLE, Tenn. - Under an ornate brass chandelier, Sarah Palin looked out into the swank hotel ballroom and a legion of double-breasted and leopard-topped fans - some who'd paid $349 for the 55-minute privilege - surrounded by plates of half-eaten chocolate mousse, and made a declaration:
"I think America is ready for another revolution . . . "