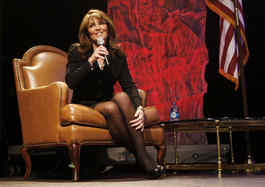 So I wasn't sure what I was getting into when I took off for Nashville (and I wasn't sure if I'd ever return to snowpocalypsed Philadelphia, although I'm optimistically at the Nashville airport now). Long story short, I'm pretty sure I witnessed the start of the 2012 presidential race -- unless someone comes along for Sarah Palin with a better-paying gig. Here's my report:
NASHVILLE, Tenn. - Under an ornate brass chandelier, Sarah Palin looked out into the swank hotel ballroom and a legion of double-breasted and leopard-topped fans - some who'd paid $349 for the 55-minute privilege - surrounded by plates of half-eaten chocolate mousse, and made a declaration:
"I think America is ready for another revolution . . . "
Palin then rebooted her improbable climb from the foothills of Wasilla to the slippery mountaintop of American politics on a speech here to the National Tea Party Convention on Saturday night. She told the well-coiffed vanguard of an anti-big-government insurgency what it wanted to hear - "This is about the people, and it's bigger than any one king or queen of a tea party" - and then she bolted from the room with 8-year-old daughter Piper to echoing chants of what she wanted to hear: "Run, Sarah, run!"
Read, discuss, and I'll see you tonight, God and U.S. Airways willing. Yes, this blog post comes with a sound track: