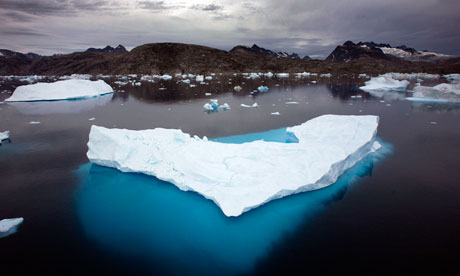 There are some things I'll always remember about the winter months of 2010. My travels among the Tea Party, for one thing, and getting stuck in Nashville to watch the Saints finally win a Super Bowl. Oh yeah -- and the non-stop parade of weather stories on the Drudge Report -- snowbound D.C., blizzards threatening public hearings on climate change.
Here's what Drudge and his pals were up to back in early February:
Earlier this week, Rush Limbaugh and other conservative commentators made light of the fact that the announcement of the creation of a new federal climate service on Monday had to be conducted by conference call, rather than news conference, because the federal government was shuttered by the storm.
Matt Drudge, who delights in tweaking climate-change enthusiasts, noted on his Web sitethat a Senate hearing on global warming this week was canceled because of the weather.
As the first blizzard howled last weekend, the Virginia Republican Party put up an advertisement on the Web — titled "12 Inches of Global Warming" — criticizing two Virginia Democrats, Representatives Rick Boucher and Tom Perriello, who voted for the federal cap-and-trade legislation last year.
So guess what. Summer arrived officially today.
And it's hot. Real hot. Hotter than it normally is this time of year, and it's going to stay that way for a while. Here in Philadelphia, the mercury is going to top out at or above 90 all week, with high humidity. So I raced over to the Drudge Report, and you'll be shocked, shocked to learn there was nothing there about high temps or how that was going to change the debate on manmade global warming.
And truth be told, a hot week in June in the U.S. Northeast shouldn't impact the debate on climate change -- because that's only weather. What we need to watch is climate -- longer and more gradual shifts in planetary temperatures over time -- and the news in that department ought to be Drudge-worthy (he does rule our world, after all) even it it is not:
New data from some of the world's leading climate researchers and institutions suggest that 2010 is shaping up to be one of the warmest years ever recorded.
Scientists at the US National Snow and Ice Centre Data Centre (NSIDC) report today that Arctic sea ice – frozen seawater that floats on the ocean surface – is now at its lowest physical extent ever recorded for the time of year, suggesting that it is on course to break the previous record low set in 2007.
Satellite monitoring by the NSIDC in Boulder, Colorado, shows that the melting of sea ice has been unusually fast this year, with as much as 40,000 sq km now disappearing daily.
Meanwhile, here's a good new piece from Cynthia Tucker of the the Atlanta Journal-Constitution on the dangers of climate change denial in Washington.
Ironically, there's new talk of a push for energy legislation in Washington -- but it's because of the BP oil spill, and not because the earth is getting hotter.
And it's certainly not because of the pictures and headlines on the Drudge Report.