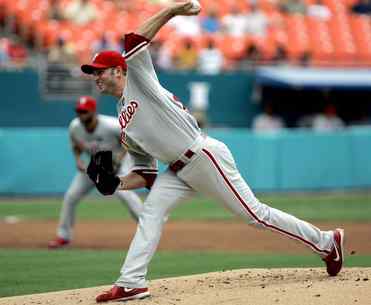 If the nation was as focused on healthcare as much as Philadelphia is focused on the possibility of the Phillies acquiring former Cy Young Award-winning pitching ace Roy Halliday from Toronto in return for the Phillies' blue-chip prospects, we'd all be insured by now. It seems there is no other subject on the local agenda (Vince who?) -- even the fact that the Phillies have won 9 in a row and 13 out of 14 seems like an afterthought, oddly enough.
I'm rolling out of the pocket this a.m. so I'll be back this afternoon with my own thoughts, which have already changed a couple of times. The most fascinating aspect is whether the Phillies should include rookie pitcher J.A. Happ, who is 7-0 and a leading candidate for the NL Rookie of the Year Award. Would a team really trade a hot rookie in the middle of an award-caliber season?
UPDATE: Like a lot of Phillies fans, I went through the various stages on this: At first I wondered if it was really necessary to gut the entire farm system for one player, even someone as good as Halladay. After all, we don't need him to win the division, just to win Game 2 of a playoff series or the World Series when a) the Brewers tried that strategy with C.C. Sabathia -- remember what happened in Game 2 of their playoff with the Phillies? and b) The Phillies did lose Game 2 of the 2008 World Series, and that seemed to work out OK. How would we feel in 2011 with Halladay gone and prospect Kyle Drabeck launching an All-Star career in Toronto?
But, never mind -- getting Halladay is a once-in-a-lifetime chance to nail down two World Series in a row. That said, I'd actually rather see them keep Happ and trade Draback, even though everyone says that Drabeck has a much larger upside. I think we've seen enough of Happ to see that he's not another kyle Kendrick, that he seems to have a lot of a rare but essential quality for a major league picture, which is poise. Drabeck's already had arm surgery once. and if the goal of a Halladay trade is to win now, isn't Happ also more helpful toward that goal.
One thing, though: If the Phillies were to keep Happ and get Halladay, what in the world is the point of Pedro Martinez?