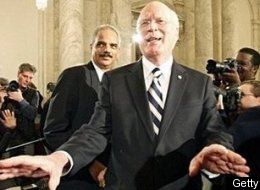 Kudos to Sam Stein from the Huffington Post yesterday for a) getting to ask a question at a prime-time presidential press conference as a reporter for a Web-only news site and b) asking a darn good question -- whether President Obama supports an idea backed by Senate veteran Patrick Leahy of Vermont for a national Truth Commission that would finally reveal all the facts on torture, rendition, wiretapping, political firings of U.S. Attorneys and other scandals of the Bush era.
Here's Leahy's proposal:
Senate Judiciary Committee Chairman Patrick Leahy insisted on Monday in firm and passionate terms that a comprehensive investigation be launched into the conduct of the Bush administration, saying anything less would prevent the country from moving forward.