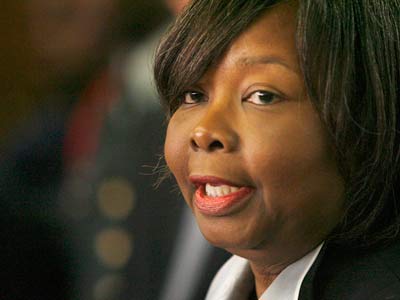 Wow -- real justice...in Philadelphia, no less:
Embattled South Philadelphia High principal LaGreta Brown resigned Thursday amid questions about her certification.
According to the Pennsylvania Department of Education, Brown holds a state principal certification but it is currently inactive.
A district official said that Brown had agreed to resign after the end of this school year, but after The Inquirer raised questions about her certification, she decided to leave the school Thursday.
Great job, Philadelphia Inquirer, and if you read the whole article, you'll see why Brown's (pictured at top) departure is about nine months too late for the students and parents who wanted to get an actual education at South Philadelphia High. Some of the allegations surrounding Brown are beyond outrageous. But make no mistake -- this should only be the beginning of a massive spring cleaning that needs to start in South Philly and go all the way to school headquarters on North Broad Street. Who hired LaGreta Brown, and why? Why weren't her credentials checked, and why was racial discrimination and violence allowed to fester?
All roads lead to schools superintendant Arlene Ackerman. She should have handed in her resignation at the same time.
And I believe Tony Auth deserves a huge apology.
And Jannie Blackwell looks ridiculous, no?