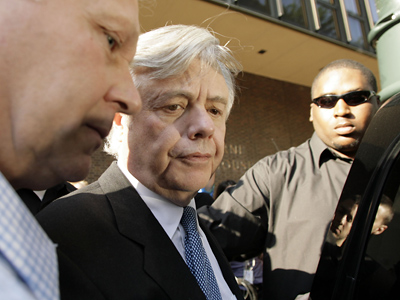 Vince Fumo knew all the right people -- and they were there for him when he needed them.
Born 66 years ago into a successful South Philly family that owned a savings-and-loan association (back when they were associated with George Bailey and not with Charles Keating), Fumo built on that and chose a life in politics -- and with his MENSA-level IQ, he not only read up on Machiavelli but acted it out in his own wonderful life when he earned his Machiavellian-inspired nickname, the Prince of Darkness. If you are reading this and you are not a Philadelphian, it hardly does Fumo justice to describe him as merely a state senator, which was nominally his job from 1978 through 2008. For much of that time, Fumo was the de facto boss within the Democratic machine, the man to see in one of the most corrupt cities in America.
His duties as a lawmaker in Harrisburg still allowed Fumo time to build his family S&L, where he was now chairman, into a lucrative cash machine even as he also worked as "rainmaker" for a leading Philadelphia law firm. He held enormous sway over legislation from the state Senate Appropriations Committee, but his tentacles were everywhere, from the city's byzantine system of Democratic ward politics to obscure cash-rich agencies like the Delaware River Port Authority or the Board of City Trusts that were under the sway of Fumo allies. In 1991, Ed Rendell was elected mayor of Philadelphia, ostensibly to clean up the then-nearly bankrupt city, but instead his first mission was to kowtow to Vince Fumo, because Fumo was the guy "who could get things done," even as he moved from power lunches at the ritzy Palm to the luxury boxes at the old Vet to vacations in Florida and Martha's Vineyard. And there was one more very important thing about Vince Fumo.