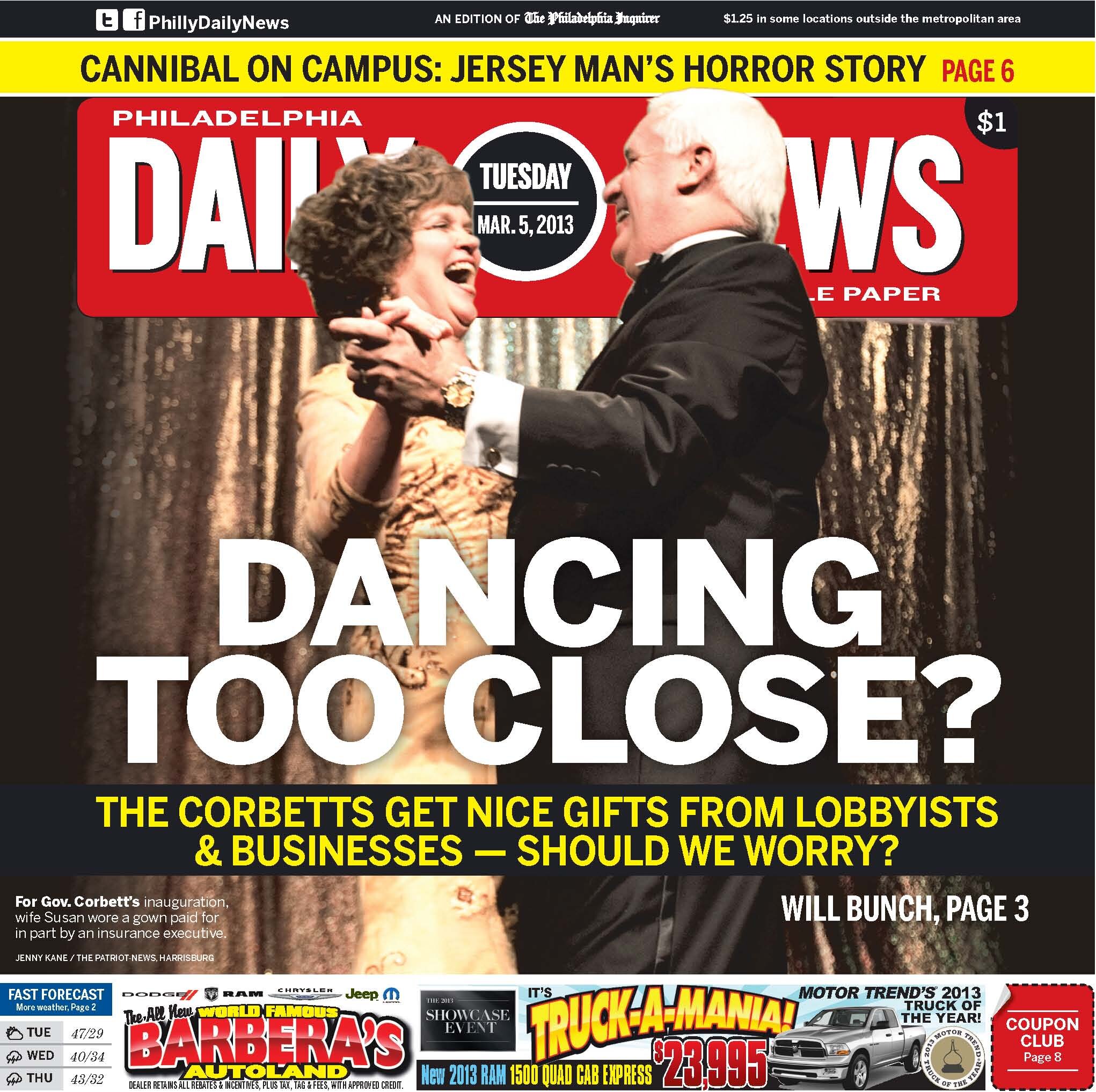 My in-depth look at the Corbetts' casual practice of accepting thousands of dollars in gifts from executives and lobbyists with business in Harrisburg:
The governor-elect's casual acceptance of the coveted hockey tickets was not an isolated instance, but part of a larger pattern of Corbett's taking gifts from lobbyists or businesses with substantial interests before the commonwealth - a pattern that some good-government groups say not only looks bad but also arguably violates the 33-year-old Code of Conduct that governs ethics in the executive branch.
A Daily News examination of state disclosure forms found that Corbett and his wife, Susan, accepted $11,343 in gifts from business executives, lobbyists or lobbying firms in 2010 - when the former attorney general mounted his successful campaign for governor - and in 2011, his first year in office.
Besides the hockey tickets, Corbett or his wife were feted by business interests with Steelers playoffs tickets, private jet travel, seats at a swank gala for the Philadelphia Orchestra, a Rhode Island summer vacation aboard a businessman's yacht - even money to help pay for the first lady's inauguration gown.
Barry Kauffman, executive director of Common Cause Pennsylvania, said the good-government group would like all gifts to public officials barred. He noted that an executive or lobbyist who sits next to the governor at a football game or on a corporate jet is getting access that the average voter can't match. The gift-givers, he said, "understand that even if it's a small gift, these benefits affect human nature."
You should also read John Baer -- wiser in the ways of Harrisburg than anyone I know -- and his smart take on this.