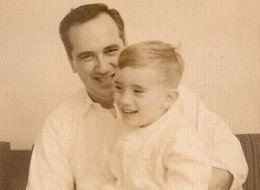 Theodore Olbermann was a noteworthy architect, but in this media age that we live in, he became best known during the very final act of his life. It was during those weeks that his son -- the MSNBC newscaster Keith Olbermann -- used his hospital travails as a teachable moment on the urgent need for a U.S. healthcare reform that would lead to better outcomes for all. Now, there's an excellent chance that legislation will win final approval pass this week, but Theodore Olbermann did not live to see it; he died Saturday at age 80 with his son and daughter at his side. My condolences to Keith (whom, as longtime readers know, I went to high school with) and the Olbermann family. He sent me this obituary that I'm reprinting here. At the bottom is Keith Olbermann's special comment about his dad's hospitalization and his plea for reform:
Theodore C. Olbermann died, in the city of his birth, New York, Saturday. He was 80 years old.
Though the financial constraints of his youth made college infeasible, he became an architect licensed in 40 states, and practiced for 40 years. Much of his work was commercial and there was a time in the 1970's when nearly all of the Baskin-Robbins outlets in the country had been built to his design, and under his direction.