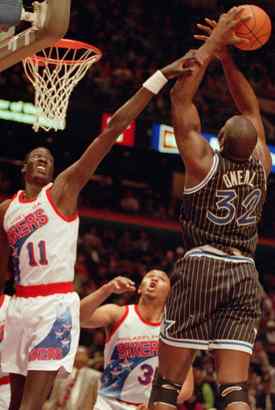 As the 76ers look -- with some success and some good luck lately -- to re-invent the team, they might want to think about picking up some players like Manute Bol, if such a person exists. Bol -- who died way too young this weekend at age 47 -- was a 7'7" gentle African giant who only spent a couple of years with the Sixers at the end of his career in the early-1990s and didn't make much impact here...on the court.
Off the court, he was arguably the greatest ex-76er ever. NBA superstars are given much, but how many give back more than they get?
However, few who didn't keep up with Bol's activities after his NBA career are aware of his consistent efforts to improve conditions for those in his homeland of Sudan. In fact, Bol spent nearly his entire fortune, and went bankrupt, donating money to organizations that were working in Darfur.