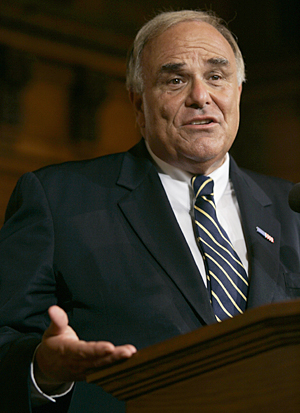 A major focus of my book "Tear Down This Myth: How the Reagan Legacy Has Distorted Our Politics and Haunts Our Future," is a group that was formed in 1997 -- the initial moment when the modern conservative movement in America was about to crack up -- called the Ronald Reagan Legacy Project. Led by anti-tax zealot Grover Norquist, the project set a ridiculously ambitious goal of getting at least one thing in each of America's more than 3,067 counties named for the Gipper. And if it doesn't get its way, it doesn't just cajole, but it demands, and even stomps its feet.
Last Friday was Reagan Day, the 98th birthday of the late 40th president, and guess who's on the enemies list of the Reagan Legacy Project: Our own Pa. Gov. Ed Rendell, one of 19 governors who declined to issue a proclamation noting the event. A friend in the Daily News newsroom handed over their faxed news release (so no link). It reads in part:
"It is essential that Americans recognize President Reagan's legacy of economic growth and freedom from tyranny," said Grover Norquist, chairman of the RRLP. "Today it is our duty to preserve the legacy of Ronald Reagan so that future generations of American can learn of his strength and his imminent presence in history."