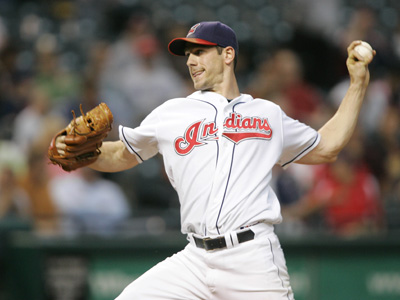 Halladay on Ice!
Phillies Go Cliff Diving!
Does Lee Mean Surrender?
Let your tabloid headline writing instincts run wild, because it looks like the Phillies have made a deal. Their totally whacked-out scheme: To win a World Series with as many lefties (in the baseball sense, we don't know their politics much) as possible. It's so crazy, it just may work:
Two sources with knowledge of the negotiations confirmed to the Inquirer that the Phillies have agreed to trade Lou Marson, Jason Donald, Carlos Carrasco and Jason Knapp to Cleveland for pitcher Cliff Lee and outfielder Ben Francisco. The deal is done pending a review of medical records, and could be announced shortly.
Lee, 30, the 2008 American League Cy Young Award winner, is 7-9 this season with a 3.14 earned run average. Francisco, 28, is a righthanded hitting outfielder, batting .250 with 10 home runs this season. Francisco has pinch hit twice this season, going hitless in two at-bats.
Judging from the initial reaction on Philly.com, fans were so conditioned for a Halladay trade as your living proof that these are not your father's Phillies, that anything short of the Toronto ace means the Phillies might as well have acquired Mitch Williams and the ghost of Chico Ruiz.
I'm not so sure: It was Lee who won the most recent Cy Young Award in the AL, and this year -- playing for an uninspired team in the league with the designated hitter -- his ERA is a steller 3.14, a run and a half better that the guy who'll be starting Game 1 of the WS, Cole Hamels.
So Lee's not exactly chopped liver. The Phillies have found a middle-of-the-road approach that allows them to get one of the 10 best pitchers right now in baseball while keeping the prospects they need; if this scheme works we'll be watching Lee in the 2009 Series and Drabek and Brown, replacing Ibanez in left, in 2012.
Why do I think that the health care debate will also end exactly like this?
Oh, and one more thing. If you're going to Ben Francisco, be sure to wear some flowers in your hair.