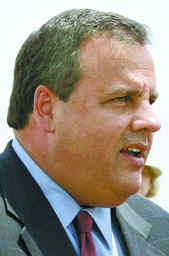 They always say that it's better to be lucky than good -- just ask New Jersey Gov. Jon Corzine. The guy practically walked into his 2009 re-election campaign with a giant "Kick Me" sign on his back: Not only has his leadership of the Garden State been uninspired at best and sleazy at its worst, using childish campaign tactics, but he's a multi-multi-millionaire Wall Street guy at a time when most of the public -- regardless of ideology -- thinks that an old-fashioned tarring-and-feathering would be too good for these people.
But the GOP put up a supposed tough-guy prosecutor -- Chris Christie (top) who upon further review is actually the most corrupt candidate in the race, which in most New Jersey elections is not a good place to be. And there's a compelling indepedent candidate who probably can't win but can siphon thousands of votes from these two, but mainly from the anti-Corzine independents who were once flirting with Christie. The bottom line is that Corzine can win with maybe as little as 40 percent of the vote on Election Day -- as frustrated voters go with the New Jersey devil they know.
The latest on Christie is quite damning indeed:
When news broke in August that the former United States attorney, Christopher J. Christie, had lent $46,000 to a top aide in the federal prosecutor's office, he said he was merely helping a friend in need. He also said the aide, Michele Brown, had done nothing to help his gubernatorial campaign.
But interviews with federal law enforcement officials suggest that Ms. Brown used her position in two significant and possibly improper ways to try to aid Mr. Christie in his run for governor.
The New York Times finds that Christie's financially indebted aide Brown intervened to slow the public release of documents that would have shown the prosecutor's pricey upscale travel on the taxpayer's dime. And I consider this nugget even more serious:
In mid-June, when F.B.I. agents and prosecutors gathered to set a date for the arrests of more than 40 targets of a corruption and money-laundering probe, Ms. Brown alone argued for the arrests to be made before July 1. She later told colleagues that she wanted to ensure that the arrests occurred before Mr. Christie's permanent successor took office, according to three federal law enforcement officials briefed on the conversation, presumably so that Mr. Christie would be given credit for the roundup.
The real problem with Christie is that he was a team player from Day One in one of the most politicized and thus systematically corrupt Justice Departments in U.S. history -- highlighted by the mid-term firings and hirings of U.S. attorneys, one of the still unresolved clouds lingering from the Bush years. You may recall that the U.S. Attorney from New Mexico says he was ousted after he wouldn't indict ACORN officials even after he decided there wasn't a case, and then there was the episode of Alabama Gov. Don Siegelman, an American political prisoner if there ever was one. In New Jersey, Christie was one of the guys who DIDN'T get fired by Karl Rove & Co. He also conducted a highly leaky, headline generating probe of Sen. Bob Menendez at the height of the 2006 campaign that in the end went nowhere.
So barring an unlikely late surge by independent Chris Daggett, it's unlikely that New Jersey will get the change it deserves.
And here's the Christie revelation that South Jersey voters should find most outrageous of all. According to the Times article, he appears to have charged taxpayers for $73 in travel on a night that he went to Philadelphia -- so that the "die-hard Mets fan" could root against the Phillies! How dare he. And how ironic -- now because Christie is copying his beloved team, by choking and blowing a big lead when the calendar turns to fall.