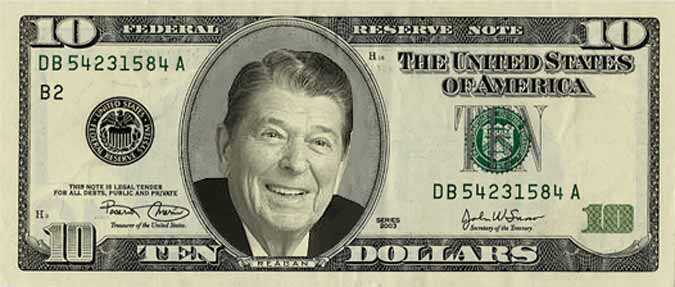 Why do Republicans hate their own presidents? -- now it's Ulysses S. Grant:
Ronald Reagan is honored by, among other things, an airport, a freeway, an aircraft carrier and -- ironically for a critic of big government -- one of the biggest federal buildings in Washington.

Now, some of the late president's admirers are launching a new effort to add another honor: printing his likeness on a $50 bill in place of Ulysses S. Grant's.

In polls of presidential scholars, Reagan consistently outranks Grant, said Rep. Patrick T. McHenry (R-N.C.), who introduced legislation to make the change.
Modern Republicans pay almost no props to their own war heroes -- first it's the lack of respect for Dwight Eisenhower, the greatest GOP president of the 20th Century, and now the general who won the Civil War. Think it's a tad ironic that the guy who wants to take Grant off of money is from a Confederate state, North Carolina? What's the real agenda here?