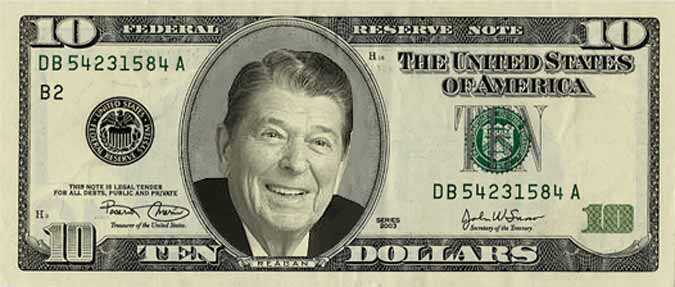 Why do Republicans hate their own presidents? -- now it's Ulysses S. Grant:
Ronald Reagan is honored by, among other things, an airport, a freeway, an aircraft carrier and -- ironically for a critic of big government -- one of the biggest federal buildings in Washington.
Now, some of the late president's admirers are launching a new effort to add another honor: printing his likeness on a $50 bill in place of Ulysses S. Grant's.
In polls of presidential scholars, Reagan consistently outranks Grant, said Rep. Patrick T. McHenry (R-N.C.), who introduced legislation to make the change.
Modern Republicans pay almost no props to their own war heroes -- first it's the lack of respect for Dwight Eisenhower, the greatest GOP president of the 20th Century, and now the general who won the Civil War. Think it's a tad ironic that the guy who wants to take Grant off of money is from a Confederate state, North Carolina? What's the real agenda here?
"I'm very upset," said Keya Morgan, a New York-based Grant scholar who has a Web page on the 18th president. "I have all the respect in the world for Reagan, but what he accomplished is not anywhere as important as what Ulysses S. Grant accomplished."
Meanwhile, if the Treasury really wanted to honor Reagan, it should bring back some of the large bills that were pulled out of circulation in 1969, like the $100,000 bill, which featured Glenn Beck's favorite president, Woodrow Wilson. Why? Because it was Reagan who took the United States from a creditor nation into a debtor nation, so if we ever do pay that gazillion or two back to China -- don't hold your breath -- we could turn over a suitcase filled with Ronald Reagan funny money.