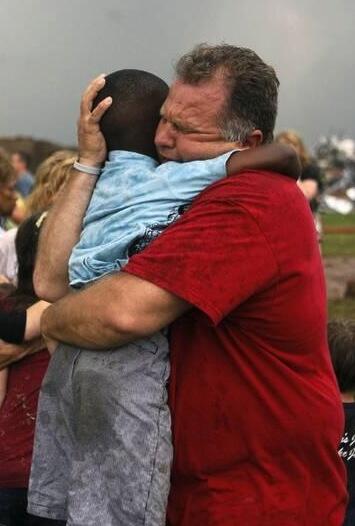 I'm not sure when and why teachers became such a punching bag for the difficulties facing education in America. But the recent, tragic events in Newtown, Ct., and now in Moore, Okla., have served as a reminder of what most teachers are truly made of, that they would literally risk their own lives to protect the children in their charge:
MOORE, Okla. (AP) - One Oklahoma family is crediting a third-grade teacher for her fast thinking during Monday's deadly tornado in Moore.
David Wheeler says he drove through blinding rain and gusting wind to search for his 8-year-old son, Gabriel, at Briarwood Elementary School in Moore. Wheeler tells The Associated Press that students were initially told to huddle in the hallways. But the teacher, whom he identified as Julie Simon, said it wasn't safe and instead ushered the children into a closet.
Wheeler says the teacher shielded Gabriel with her arms and held him down as the building's roof collapsed. Wheeler says the tornado sucked the glasses off the faces of some students.
Wheeler says Gabriel suffered cuts and bruises and had gravel embedded in his head - but was otherwise OK.
We should hold that thought tomorrow -- when America's inevitable Education Wars resume.