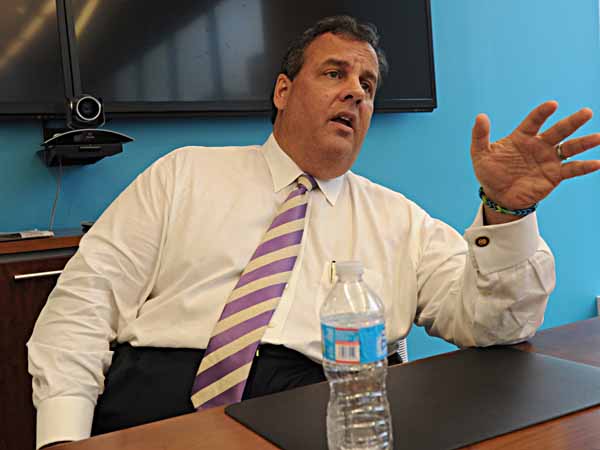 The Star-Ledger of Newark really nailed it on Chris Christie this past weekend:
The property tax burden has grown sharply on his watch. He is hostile to low-income families, raising their tax burden and sabotaging efforts to build affordable housing. He's been a catastrophe on the environment, draining $1 billion from clean energy funds and calling a cease-fire in the state's fight against climate change.
The governor's claim to have fixed the state's budget is fraudulent. New Jersey's credit rating has dropped during his term, reflecting Wall Street's judgment that he has dug the hole even deeper. He has no plan to finance transit projects and open space purchases now that he has nearly drained the dedicated funds he inherited from Gov. Jon Corzine.
His ego is entertaining, but it's done damage as well. By removing two qualified justices from the Supreme Court without good cause, he threatened the independence of judges at all levels, and provoked a partisan stalemate that has left two vacant seats on the high court. This was a power grab gone wrong.
The public gives him top marks for his handling of Sandy, but the record is mixed. Why would his administration park NJ Transit trains in a low-lying area where they flooded, causing $120 million in damage? Why did the federal government have to strong-arm the state to include more relief for renters and Spanish-speakers than Christie had proposed? And why should anyone believe taxpayers got the best price on refuse removal when the governor awarded a no-bid contract through a political friend?
Our own view is that Christie is overrated. His spin is way ahead of his substance.
They seem to hate the job that Christie is doing as governor -- and they should know, since they're the largest newspaper in the Garden State. But here's the funny part -- that's an excerpt from an editorial ENDORSING Christie for four more years in office. What the...? Their move is hung on one issue, and one issue only.
His Democratic opponent, Barbara Buono, doesn't love charter schools as much as the Star-Ledger loves charter schools.
Indeed, reading this bizarre editorial and its author's slightly unhinged response to this on-the-money blog post, you'd almost have to ask if their guy is on the take for the charter-school industry, He's not. It's just that editorial page writers LOVE charter schools...love 'em, love 'em, love 'em! It's a solution to the problem of urban education that only an editorial writer could love -- cooked up by geeks in comfy offices just like theirs, largely unworkable in the real world beyond their glass windows, prone to be exploited by all sorts of con artists too swift for them to comprehend.
The Star-Ledger editorial isn't just dumb but it's intellectually dishonest -- it cherry picks one obscure local study to ignore the broader surveys showing that charter schools perform no better than the public schools that officials like Chris Christie and Tom Corbett are working overtime to sabotage. A job Chris Christie is about to get four more years to finish.