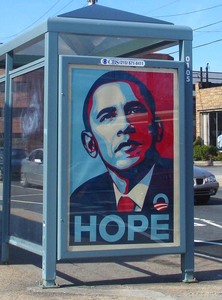 (Photo by our own Vance Lehmkuhl)
Yes, this IS creepy....
The Soviet-style heroic Obama, the use of a single word "Hope," do make the SEPTA bus shelter posters a bit reminiscent of George Orwell's "1984."

Its more direct antecedent is John Carpenter's 1988 paranoid totalitarian fantasy flick, "They Live." Replace the word "Hope" with "Obey" on that Obama poster and tell us what you think.