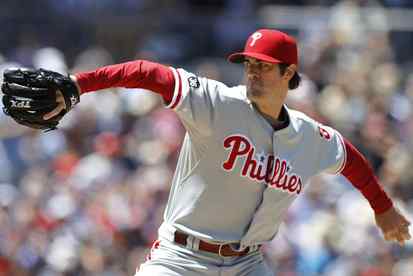 Feeling nostalgic today -- remembering the good old days when I used to blog a lot about the Phillies. Believe it or not, there was a period in '05 and '06 and even early into the playoff years when I was the only person in the Philadelphia Newspapers empire blogging the Phillies, and that was something I enjoyed. Maybe there'll be a few more posts than usual between now and October, especially since I'm feeling pretty good about the odds there will be an October.
Here's the deal: If the season ended today, the Phils would be in the playoff as the wild-card team. There's a lot of logical reasons why -- while that is clearly OK, given the team's many injuries and other outbreaks of bad karma in 2010 -- fans want to see them push beyond that and pass the Braves and win the National League East. That would increase their odds of home field advantage at least in the first round and supposedly also give them a more favorable match-up.
Supposedly.
The reality is that if the Phillies pass the Braves, their most likely first-round opponent would be the Cincinnati Reds -- that's certainly a winnable series, but the Reds' young and nothing-to-lose pitching staff scares the heck out of me. If the Phillies are the wild card, they would most likely play...the San Diego Padres. Remember the Padres? Remember this weekend? Clearly, the Phillies own San Diego when they play in Petco Park, having swept the Padres there the last two seasons. The wild card Phillies would play Game 1 and Game 2 in the warm California sun with Halladay and Oswalt on the mound. I'd feel very good about that.
So I think the wild-card-leading Phillies need to stay put.
It's San Diego or bust.