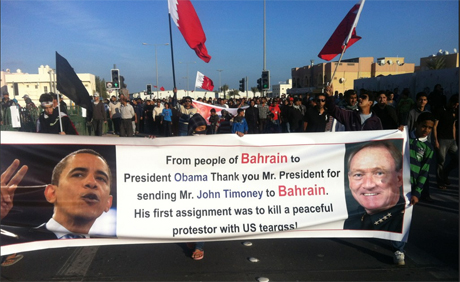 One of our more interesting side trips this year was across the pond to Bahrain, where Philly's ex-top cop John Timoney is there to promote truth, justice and the American way. How's that working out?
Going out on the streets, carrying nothing but a flag and calling for democracy could cost you your life here. Chanting "down with the dictator" could lead to your being subjected to electric shocks. Giving a speech about human rights and democracy can lead to life imprisonment. Infants have died after suffocating from toxic gases used by riot police. And teenage protesters have been shot and killed.
It's not unusual in Bahrain to find families with four or five members in prison at the same time. My father, Abdulhadi al-Khawaja, was beaten unconscious in my apartment in front of my family, as a report last year by the Bahrain Independent Commission of Inquiry documented. He was then taken away with my husband and brother-in-law; they were all tortured.