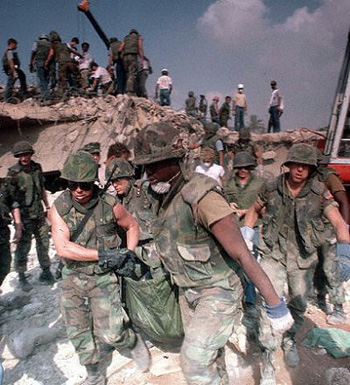 It's tragic, and senseless, when innocent Americans who are sent abroad in the pursuit of peace are killed by terrorists, warriors of a hateful ideology. But when it happens, it's also natural -- indeed, necessary -- that we ask questions of our leaders. Because sometimes, soldiers or diplomats are sent abroad with an ill-defined mission, that starts as one thing and ends up something else altogether. Sometimes, our top leaders ignore warnings that security needs to be beefed up. A fact-finding commission typically finds serious mistakes. Sometimes the administration is even accused of trying to divert the public's attention -- perhaps because a presidential election is coming up.
All of those things happened...in 1983, when Ronald Reagan was president and when a shocking number of American Marines and other service members -- 241, to be exact -- were killed in the terrorist car bombing of their compound in Beirut, Lebanon, where they'd been dispatched in a muddled peacekeeping mission. The parallels between Reagan, and what happened in Beirut some 30 years ago, and what happened in Benghazi under President Obama are rather striking, though.
Both presidents were struggling in their first terms, with high unemployment and low approval ratings. Their missions -- to Lebanon then and to Libya more recently -- were rooted in similar instincts to avoid genocide, then clouded by the difficulty in knowing just who the good guys were, in violent, chaotic failed states. But there were differences between then and now, however. After a not very long interval of time after the deadly bombing, Reagan brought U.S. troops home from the region -- a decision that nowadays would be called "cut and run" cowardice to be avoided at any price..