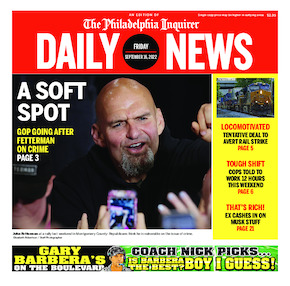 There is so much going on that is of interest to Philadelphians right now -- both serious stuff like the city's large Polish population devastated by that nation's tragegy -- and also a swarm of upbeat local sports news (not to mention the feel-good saga of the Masters)...so I was more than I little disappointed when I learned last night that the lead story in the Daily News would be this happy-talk profile of "supreme" Phillies fan, Justice Samuel Alito.
I can't even bring myself to read the story, which passes off a luxury-box kind of guy as a kind of an Everyfan -- this, a guy who probably couldn't have found the 700 Level with Mapquest. That's bad enough, but the real problem with sucking up to Alito on the front page is ignoring the real pain that he and his corporatist lackeys in the majority on the Supreme Court are bringing to those 700 Level fans.
Who cares what Alito thinks about the Phillies when we know this is what he thinks about Philly?
In 1993, an African American worker named Harold Glass lodged a case against Philadelphia Electric Co. During Glass' 23 years at the company, he earned college degrees in industrial management and engineering. Glass filed a suit contending the utility had stymied his attempts to get promotions and retaliated against him because of his age, race and longtime efforts on behalf of minority employees. He had participated in a suit that removed barriers to employment opportunities for blacks at the company.
Philadelphia Electric said he was unqualified for the positions he sought, and cited a poor evaluation he had received eight years earlier. When Glass tried to counter with evidence that he had been subjected to racial harassment and a hostile work environment during that period, the trial judge did not allow it.
The 3rd Circuit reversed, 2 to 1, with two Republican appointees ruling that Glass should have been permitted to bring this evidence to the jury.
Alito dissented. He said that if Glass had been allowed to talk about what happened in the mid-1980s, it might have caused "substantial unfair prejudice to the company."
Throughout his career on the bench, Samuel Alito has sided again and again with fat cats and against the little guy, in arguments so extreme that he was at times swatted down by other Republicans, including this appalling ruling against the federal family-leave law that was overturned by the conservative Rehnquist court. The recent High Court decision allowing unlimited corporate dollars to flood the political process was the crowning achievement of his pro-corporate jihad. Then-Sen. Barack Obama was absolutely right in voting "no" on Alito's nomination in an effort to keep America safe from this kind of extremism; one only wishes that more of his Senate colleagues would have joined him.
Over this years, I have seen the Daily News profile dozens of wonderful Phillies fans, people who overcome old age and physical disabilities and other hardships to get down to the ballpark and root for the team that we all love. Samuel Alito does not deserve to be in their company.