It's no secret that things haven't always gone smoothly for Gov. Corbett in his effort to woo minority voters in Pennsylvania. Most famously, the one-term GOP governor -- who's in the fight of his life for re-election -- last year told editors of Philadelphia-based Al Dia at a roundtable that he didn't have any Latinos in his cabinet, adding: "If you can find us one, please let us know."
Now, according to a report going viral tonight on social media, Corbett's re-election campaign found an African-American woman to stand next to the governor on his website photos.
Not an actual woman. According to Buzzfeed, the black woman who gazes at Corbett was Photoshopped from a stock picture.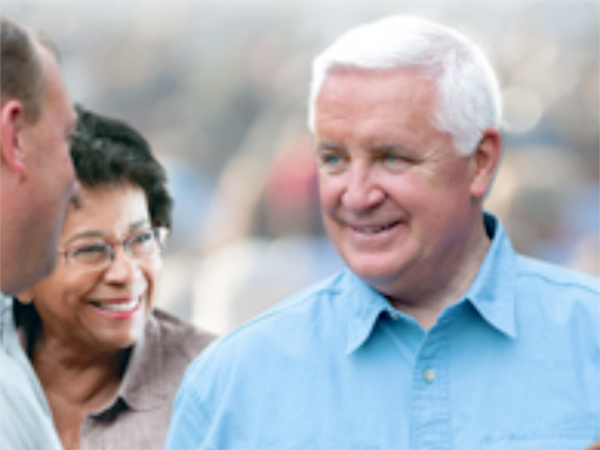 Buzzfeed's Andrew Kaczinski said that the Corbett campaign told him tonight that all of the people standing around Corbett -- including the African-American right next to him -- were taken through Photoshop, the photo-editing tool, to create the so-called "footer" at the bottom of each webpage. "The whole website footer graphic is a work of Photoshop," he quoted them as saying.
Earlier, Kaczinski had located the original source on the stock-photo site Shutterstock, which showed the identical woman seated in a conversation with two men. The original photo was captioned: "Financial Adviser Talking to Senior Couple at Home." Buzzfeed noted that in moving the image next to Corbett's on the website, the color of her shirt was altered.
Like many Republican candidates, Corbett has struggled to win black support, especially after the governor signed the 2012 voter ID law that infuriated civil rights activists and was later struck down in the courts. This report that his campaign implied he was interacting directly with a black voter in a made-up photo probably won't help the governor as he struggles to make up a huge deficit -- from 15 to 25 points, depending on which poll one reads -- in his race with Democratic challenger Tom Wolf.