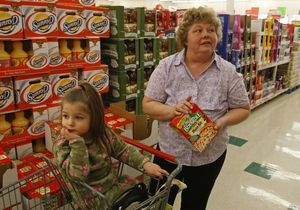 A shout-out to friend and former New York Newsday co-worker Al Lubrano, who had an excellent story about the working poor in the Philly suburbs. It pretty much speaks for itself:
"Working poor is what I am," says Walerski, who possesses a broad, smiling face and a fighter's demeanor. "There are lots of us, and we look like everyone else.

Some weeks, Walerski spends as much as $45. But overall, her precious dollars seem to buy less while her four kids are eating more.

Her carpenter husband works diligently to pay the mortgage on the family's cramped house, down the street from a refinery. But there isn't enough.

Meanwhile, a growing tumor in Walerski's brain, as yet unbiopsied, prevents her from being employed. She used to put in 50 hours a week, juggling a day-care job with telephone-survey work. She prays that the cancer that resulted in surgery to remove her breasts does not return.
An ulterior motive for linking this article is the comment section (which uses the same Clickability format that Attytood now uses) -- it's one of the more interesting discussions I've seen around here, my own blog included. A running theme might be called "compassionate conservatism." A lot of the posters are compassionate, a lot are conservative, some are both, and some are neither.