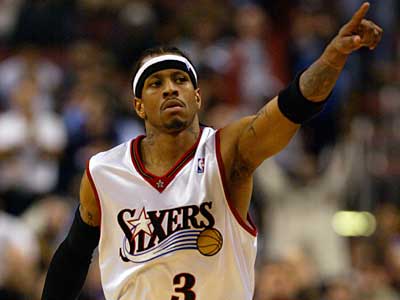 There was a story in the paper today that Philadelphia's population is finally growing today, maybe with an assist from the Obama administration (if only ACORN could have helped with that 2010 Census we'd be up over 3 million...just making your job easier, O right-wing Attytood commenter.)
That's good news, I guess, but this additional population growth is not welcome:
It's a done deal. The 76ers have signed free agent guard Allen Iverson, and said he will make his debut Monday night when they face the Denver Nuggets at the Wachovia Center.
As a Sixers fan, I was patiently waiting for a day, probably three or four years down the road, when the team finally got better with some of its young talent, the eventual departure of Brand and Dalembert's huge contracts, and probably one or two high lottery draft picks or a free agent. Now that day has been pushed back farther in the future, maybe a lot farther, just to fill a few hundred or more empty seats. Thanks Ed Snider -- for nothing.