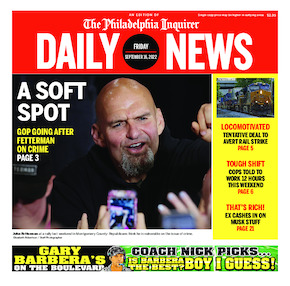 The news that SEPTA's transit workers were walking off the job right around the time that the Yankees were walking off the Citizens Bank Park diamond in disgrace was something of a surprise. Ever since the weekend, our elected officials like Mayor Nutter and Governor Rendell have been winking at us that this thing was in the bag. Now, Rendell looks like a bit of a buffoon...oh, wait, he already did, never mind (and this was before the bizarre turtleneck-thingee that he wore on Comcast's Eagles' coverage on Sunday, which made him look like a villain in a "Star Trek" movie, but I digreess...)
Anyway, I hope for the city's sake this thing is resolved soon, but in a positive way for these workers who are a backbone of Philadelphia. There is one thing other that troubles me -- and that's the timing. The TWU agreed on Friday night that it absolutely wouldn't walk out during the World Series, because, well, heaven forbid we interfere with something as sacred as that.
So instead they postponed their job action until...Election Day? I realize this cuts both ways -- Philadelphia school kids, including thousands who depend on SEPTA buses or the subway, are off today, which mimimizes their disruption at least for a day. On the other hand, Philadelphians are chosing the first new district attorney since 1991, with a somewhat competitive, by our standards, race for city controller and a couple of statewide judgeships, including a vacancy on the Pennsylvania Supreme Court. Turnout was going to be ridiculously low, anyway, but now I wonder how many working parents -- suddenly scrambling to get to their jobs today -- are even less likely to vote. So much attention was focused on not disrupting the World Series, but there wasn't a second thought to disrupting democracy?
Of course, there is another way to mimimize the hassles of voting on a busy midweek work day, with or without a transit strike. That would be to hold major elections on a Saturday or a Sunday. That's what they do in civilized nations all over the world. And it would be a lot more civilized if we did that here.