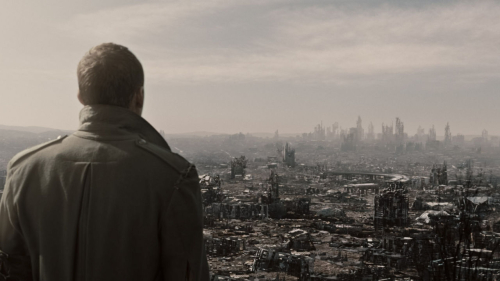 Philadelphia's supreme leader -- David L. Cohen of Comcast -- and also Mayor Nutter interrupted the post-Memorial Day sunny spring bliss today for a special announcement: Our city apparently has no future, to speak of.
OK, OK, more specifically, Cohen and Nutter announced that the plan to lure the 2024 Summer Olympics to Philly -- a plan that you probably weren't paying any attention to because frankly it seemed pretty unlikely, and that's being polite -- is now canceled before it really ever gained steam. What worried me, though, was the language they used in dropping the would-be Olympic bid, which was cryptic at best, or apocalyptic at worst:
"We've looked closely at this opportunity over the past year with the City and a number of other key stakeholders, and agree that the timing is not right for Philadelphia. We are very confident that we are on a short list of U.S. cities that can ultimately deliver an incredibly successful Games, and intend to continue down our current path towards Philadelphia one day bidding on and securing the Olympics for our city, state and region," the release quoted Cohen as saying.
Why isn't the timing right? What do they know? Have Cohen and Nutter been visited by a Fatima-like prophecy? The stories note that Philadelphia is likely hosting Pope Francis at the big Catholic confab next year, and maybe, maybe the Democratic National Convention in 2016 -- and apparently we'll be exhausted for the next eight years? Really? These are the same folks who cancelled an NFL football game with a few flakes in the forecast...a city of wusses.
The truth is that hosting the Olympics is the Lucy-holding-the-football of civic events. That is, it seems too good to be true -- TV networks (including one that Mr. Cohen might, ahem, have a little influence with) give billions of dollars to the host city, which creates thousands of jobs building infrastructure, some of which -- such as the Olympic Village that houses the athletes -- can be converted into permanent improvements. The reality is that many cities have found that poor planning and inevitable overruns leave them on the hook for hundreds of millions of dollars. I couldn't see such a thing happening in Philadelphia -- unless some of the work requires a carpenter or an electrician. Heh.
Still, it does bother me -- the lack of a grand vision. Philadelphia is a city that's blessed, if that's the right term. with waaay too many sports facilities, not just the sports complex but the Palestra, the Liacouris Center, Franklin Field, PPL Park, rowing on the Schuylkill, etc., etc. -- so what we even need to build, exactly? We have an amazingly perfect spot for an Olympic Village at the Navy Yard that could then provide affordable housing for the working class for years to come, Right now, Philadelphia is a mix of optimism -- look at all the construction rigs in and around Center City and the renaissance of some nearby neighborhoods -- and despair over deep poverty and failing schools in other parts of town.
Hosting the Olympics would be audacious -- in civic renewal ideas, it is throwing the long bomb. It might have been a terrible idea.
But why did we punt on 1st down?