OBAMA!
News blogs, sports blogs, entertainment blogs, and more from Philly.com, The Philadelphia Inquirer and the Philadelphia Daily News.
OBAMA!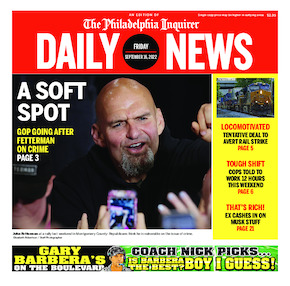 Today's Daily News came with a large "OBAMA! POSTER INSIDE" as noted on the front page -- hopefully that sold like a million papers and saved my job for the next few weeks.
You should have seen the hot "McCAIN!" poster that we had all worked and ready to run if the Republican ticket had won, not to mention our nifty set of commemorative "McCain Palin/Country First" gold-plated coins we were going to sell on Philly.com, alongside our Chase Utley F-Bomb Bobblehead for $9.95 plus shipping and handling.