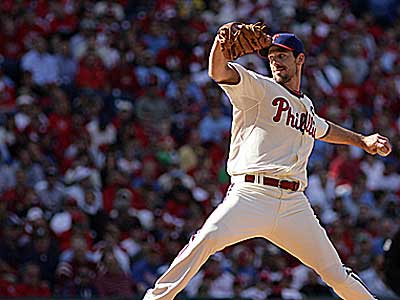 The Phillies-Rockies playoff series is underway, and just like you'd expect when Philadelphia and Colorado get together, it's an old fashioned pitcher's duel.
OK, actually no one expected that. Great to see Cliff Lee pitch like a Game 1 starter, but you have to begin to wonder not when but if the Phillies' bats will wake up. I'm not live-blogging the game for a variety of reasons (it's 2009 -- we have "people" for that) including the final insult, a wind-fueled power outtage that lasted into the second inning.
Hope the Phillies' power outtage ends soon....
UPDATE: You saw what I was doing there, right? The minute I posted that, the Phillies started tearing the cover off the ball. Meanwhile, Cliff Lee showed Charlie Manuel the best solution to the bullpen problem. 5-1, Good Guys!