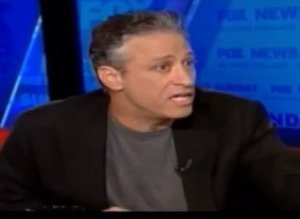 TV funnyman (I love that phrase) Jon Stewart is back in the news again, as he so frequently seems to be. For reasons I don't fully understand, Chris Wallace thought it would be a good idea to invite the host of Comedy Central's "The Daily Show" on his program, "Fox News Sunday," and Stewart agreed to come on. Of course, Stewart showed his gratitude by telling Wallace that he was "insane" and saying that FNC is disproportionately responsible for poisoning the discourse in this country.
Stewart called Fox News a "relentless agenda-driven 24 hour news opinion propaganda delivery system" -- that sounds about right. But then he added this:
"Here's the difference between you and I. I'm a comedian first. My comedy is informed by an ideological background, there's no question about that. But the thing that you will never understand...is that Hollywood, yeah, they're liberal, but that's not their primary motivating force. I'm not an activist. I am a comedian."