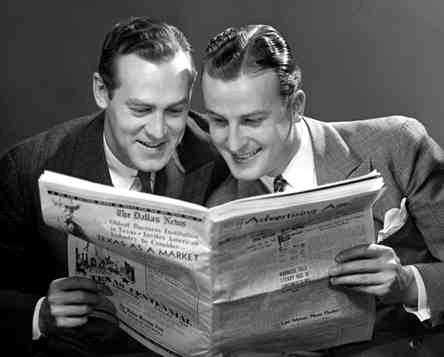 It's funny how only a crisis gets humans off their rear ends, whether it's on Wall Street or the boulevard of broken dreams where America's newspapers are printed. As bleak as things are, with major papers filing for bankruptcy or reducing or ceasing publication on a daily basis, there is also a more dynamic and even hopeful tone to the debate about how to preserve journalism.
It's a little surprising how many Americans support government subsidies to keep newspapers in business -- something that, ironical, I suspect most of the journalists who would benefit from that theoretical largess would adamantly oppose...I know that I do. Here's a new Rasmussen poll:
Thirty-seven percent (37%) of Americans favor federal government
subsidies to keep newspapers in business, according to a new Rasmussen Reports national telephone survey.
Forty-three percent (43%) say it's better to let the papers go out of business, and 20% are not sure what to do.
Thirty-two percent (32%) of Americans believe some newspapers are too important to fail. Fifty percent (50%) reject this idea.
I would have expected those numbers to be lower. It does suggest there's a base of people who might be persuadable to other methods of supporting 21st Century journalism, including paying for certain types of online content or donor support in the mode of NPR or public television, but without government subsidies that would bar news orgs from taking a position on controversial issues.
There's a really good new article out from Mark Fitzgerald on the Editor and Publisher site that takes a realistic look at the business prospects for modern newsrooms, and it's not as gloomy as you might expect. Is this the magic bullet?
It's called Low-Profit Limited Liability Company, or L3C, a corporation that qualifies as a charity under IRS rules but runs as a for-profit business.
"An L3C is a for-profit business that can take investments from foundations and charities instead of just grants because it's recognized as having a 'social benefit,'" says Jennifer Towery, the Peoria Newspaper Guild's president and the Journal Star's Neighbors editor. The social benefit: "To serve readers and fulfill its role in democracy."
The idea has taken off among the Guild, which is lobbying for federal legislation — expected to be introduced later this spring — that would explicitly include newspapers among businesses that have a "social benefit." At the moment, the IRS does not recognize newspapers as qualifying for that status.
Newspapers and "social benefit"? You guys are down with that, right? Guys?
By the way, I still think it's important that these pieces of legislation make it clear that's what happening is saving "news organizations" -- remember "norgs"? -- and not "newspapers," because it's not about the paper.
UPDATE: No blood in ants.
UPDATE II: Ha! The future of ink-stained wretches: