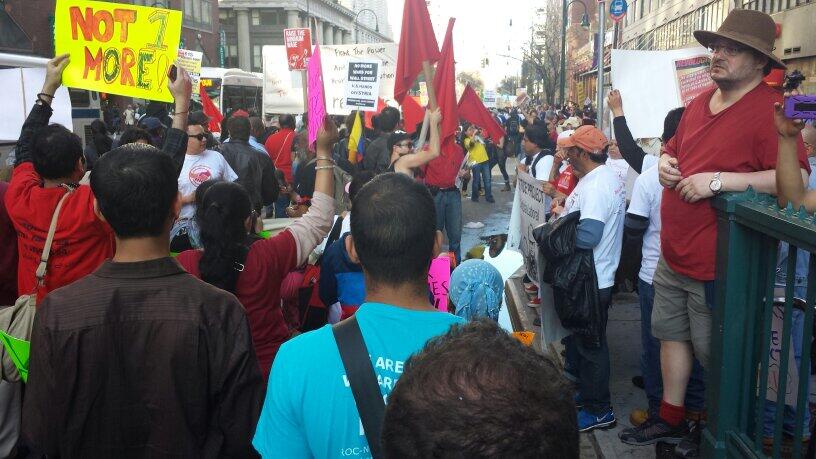 Today is May Day -- the date when all around the world workers take to the streets to show solidarity and protest for their rights, except in America where innocent young girls dance around a pole. OK, OK, actually it's a lot more complicated than that. For one thing, I'm a little surprised the extent to which May 1 is becoming a day of social protest here in the United States. In fact, as I write this, a few hundreds folks are bouncing around Center City protesting against income inequality and for worker empowerment.
I certainly agree with much of what the people are fighting for, and -- in an age where the average citizen has few tools to fight the influence of Big Money on our politics -- I definitely applaud folks who are willing to take it to the streets. But a part of me -- probably a part from the 1950s, the decade I was (by 11 months) born in -- wonders if May Day is the best day for making the case.
I guess that's because then growing up in the 1970s, I hear May Day and my mind conjures up large missiles rolling by Leonid Breshnev and the Politburo in Red Square, because for most of the Cold War era (the real one, not this one) May Day was closely associated with that most extreme ideology of the far-left working class, Communism. We're in a new century, and the excesses and abuses of unchecked capitalism have certainly created an environment where socialism -- which is on the scale somewhere between worker-friendly forms of capitalism and communism -- is increasingly popular and even saying one's a Communist won't mean getting hauled before the House Un-American Activities Committee.
But even in 2014 I think people who support the progressive causes that are most important in this country -- raising the minimum wage, creating working class jobs, offering affordable health care and higher ed, curbing the military-industry complex -- risk hurting themselves politically when the cause drifts too close to the political "C-word." I think of not Lenin but Lennon, who said that "if you go carrying pictures of Chairman Mao, you ain't gonna make it with anyone anyhow."