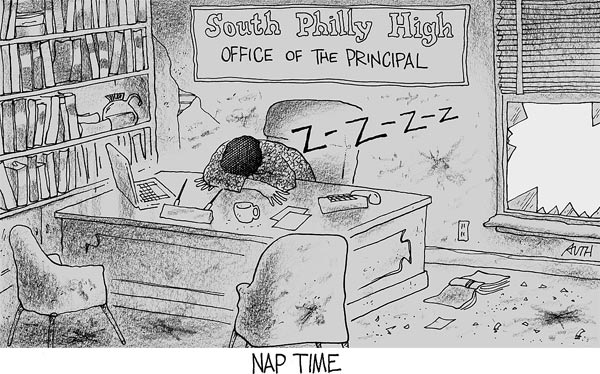 I have to say that I'm surprised (I shouldn't have been, but I was) and outraged over the protests against this cartoon by the Inquirer's Tony Auth, which depicts the principal of South Philadelphia High School, whose name is LeGreta Brown. First of all, editorial cartoons are, um, metaphor, people. Just because Ms. Brown claims she spends 12 hours a day at the school doesn't mean that she -- and her bosses on up to the needs-to-be-fired Arlene Ackerman -- weren't totally asleep at the switch, figuratively, as racially motivated violence escalated over time into a day long festival of mayhem against Vietnamese students and other Asians. If you don't believe that Brown and Ackerman displayed horrible leadership and deserve to be held an accountable, then your head is buried in something deeper than the desk in that cartoon.
That's why I'm reprinting the cartoon here at Attytood, in solidarity with Tony Auth. In fact, I'm going to reprint it here a lot between now and the day I come back from my book vacation. There's no more liberal value than saying 'no' to racism like the violence that occurred in that high school, and so I'm proud to stand with Tony Auth in doing exactly that.
On that note, have a good weekend.