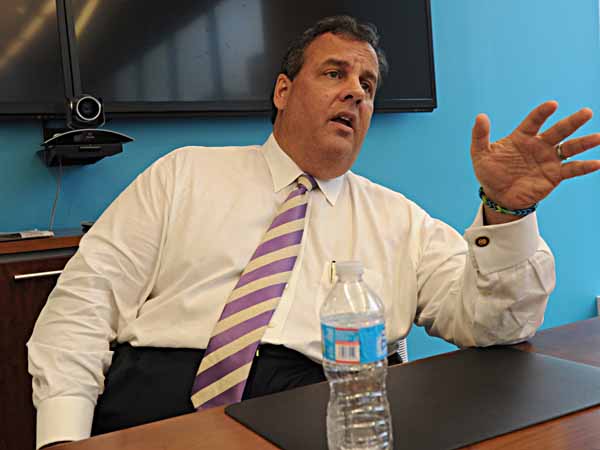 I told you this was trouble...back on November 7. That's the day I wrote about "The truth that should destroy Christie's White House bid." It involved the flip side of the Christie scandal that's been ignored: Democratic mayors who -- unlike what happened in Fort Lee -- did endorse the GOP governor, and got rewarded.
I pointed out the work of the Bergen Record's Charles Stile, who wrote:
Christie forged ties with Democrats for symbolic as well as strategic reasons. He secured the endorsement of Michael Blunt, the African-American mayor of Chesilhurst in Camden County, one of only three small towns that former Gov. Thomas H. Kean did not carry in his 1985 reelection landslide.
Blunt said he was impressed with Christie's forthright style and the help the town received from the Department of Community Affairs in getting the town's finances in order. And that help was boosted by a $200,000 special state aid package for economically distressed towns in 2011.
"We received transitional aid when a lot of other towns didn't receive any," Blunt said.
Christie won the endorsement of Harrison Mayor Ray McDonough after the governor secured approval from the Port Authority for a $250 million PATH transit hub for the downtown. Harrison was also the beneficiary of a $2 million state aid award in 2012.
My take on it, two months ago:
That's classically smart politics -- somewhere Down There, Lyndon Johnson is probably looking up and smiling. But actually it's terrible politics for your 2016 national Republican Party, especially in those blood-red Southern and Western states that have an out-sized influence on choosing the GOP's presidential nominee. Money for cities? They hate cities! Money for trains? They hate trains! Money for Democrats? They really, really hate Democrats.
In fact, they hate government spending money on anything but tanks and cruise missiles (also Medicare...shhhh). Republicans used to be as good (or "good") at doling out the pork-barrel bacon as Democratic, but not these days. Voters may claim to want bipartisanship, but the reality is that Ted Cruz, Rand Paul and any other Tea Party types who throw their hats into the 2016 ring are going to bludgeon Christie with his money-laden trail of back-room deal-making...if they're smart enough to know where the bodies are buried.
Now they're digging up the bodies, and suddenly everyone cares about public corruption. Who'd of thunk?