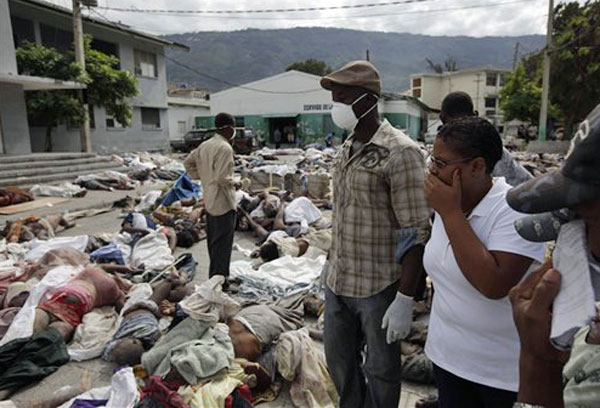 Three days ago, these people were just folks getting ready for dinner or coming home from work and looking forward to spending time with their families -- now their bodies have been dumped outside the morgue because no one even knows where to put them. I can't ever remember seeing a tragedy like this, not in this hemisphere anyway. Here's some information on how we can help the people in Haiti:
InterAction, a coalition of U.S.-based international nongovernmental organizations, has a list of agencies responding and how to donate to them. For the list, go to http://www.interaction.org/crisis-list/earthquake-haiti
American Red Cross: To donate $10 to the American Red Cross, text HAITI to 90999. The amount will be added to your cell-phone bill. Or go to www.redcrossphilly.org or to Facebook at http://www.facebook.com/pages/American-Red-Cross-Southeastern-Pennsylvania-Chapter/68427744917 or Twitter at http://twitter.com/RedCrossPhilly. To donate by phone, call 1-800-RED-CROSS.