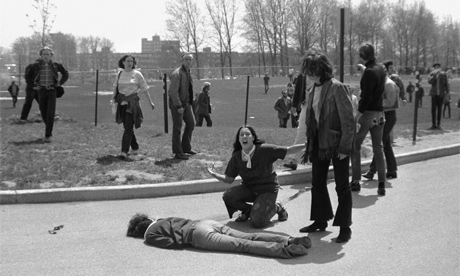 Four dead in Ohio -- 41 years ago today:
But could anything, in fact, justify the guardsmen, without warning, or apparent provocation, firing on unarmed students?
Even vice-president Spiro Agnew, a former prosecutor, and no friend of the protesters, stunned conservatives when he admitted that while not premeditated, the guardsmen's actions constituted "murder". Interestingly, though, no court ever found the guardsmen, or their superiors, legally culpable for their actions. Most civil lawsuits were also dismissed. Allison Krause's parents, who sued the state of Ohio, eventually received a token "apology", and $15,000 in cash compensation.