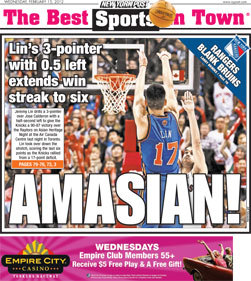 Well, it's time I stopped being the only journalist in America -- sports or otherwise -- not to mention Jeremy Lin in some context (in contrast to ESPN, where Bristol, Conn., is about to spontaneously combust -- the only way the 24-hour sports behemoth could get any more excited would be if praying by Lin and Tim Tebow convinced Brett Favre to come out of retirement. But I digress...)
So this is the headline on the back page of the New York Post today after yet another Lin buzzer-beater: "Amasian!" Hmmm. It brings to mind some classic Post sports headlines from years past, like Sandy Koufax's perfect game in 1965." "Jew Da Man!," and Wilt Chamberlain's 100-point explosion against the Knicks ("Blacktacular!") and this more recent one when Jose Reyes left the Mets for Florida ("Press the Hispanic Button!").
OK, those aren't actual headlines, and for obvious reasons. They're offensive (or, in tabloid speak, "They're Offensive!").
So is "Amasian!," and for reasons that don't require a long explanation. It takes the remarkable and complicated story of Jeremy Lin and boils it down to one thing: His race. And no doubt, his race is definitely part of the longer and complex version -- especially the lingering questions of whether college recruiters and NBA scouts overlooked his talents because he is a Taiwanese-American. But "Amasian!" pegs the entire saga to race in a way that is both childishly simplistic and offensive. Hopefully we won't see the likes of this again.