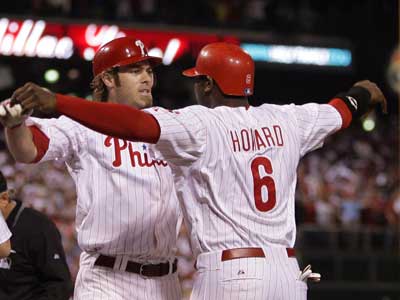 Let other cities bring our their assault vehicles and other high-tech anti-riot gear. This is Philly, and we're greasin' the poles. Whoo-hoo! Go Phillies tonight, and then Katy, bar the door!
UPDATE: Once again, J-Tann is your man for the game. Meanwhile, it's already 1-0 Dodgers. Who needs greased poles when you have Cole Hamels to tamp down your celebrations?
UPDATE II: Werth! It's 3-1. More Crisco, Philly!
UPDATE III: That's a big 10-4, good buddy, and the Phillies are the National League champions -- again! Great night for a great city...writing fan reaction story for the DN on deadline but more later. LATER: It's a bigger party in this town than I expected -- we've gone from the shock of victory, last year, to a more confortable ritual. We could get used to this.
As for the Phillies -- what a team victory. Was there anyone on the squad who didn't contribute (OK, maybe Hamels, but he did record the win in Game 1)? It's impossible to predict, but it's not hard to imagine that a Phillies-Yankees showdown will be one of the greatest World Series ever. The only thing that will be hard is the 6-day wait for it to begin.