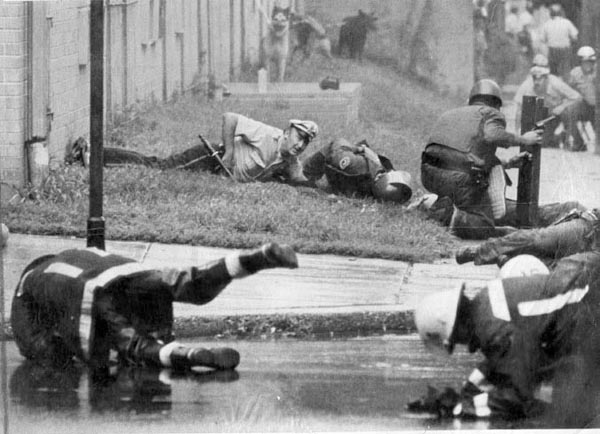 "OH MY GOD! They shot a cop!"
I shouted into the phone to a Daily News editor who was taking notes as police surrounded the MOVE compound in Powelton Village.
Cops were trying to get the radical cult members to drop their weapons and come out of the basement with their children.
Suddenly, gunshots came from the basement window of the MOVE house.
So begins a riveting first-person account of her years of covering the MOVE crisis from the Daily News' Kitty Caparella. Her account of covering the 1978 killing of a Philadelphia police officer and the 1985 deadly MOVE fire is a centerpiece of a pretty remarkable special section that the Daily News produced to mark the 25th anniversary of the inferno. Check out the whole thing.
One somewhat poignant backstory is that Kitty's story of covering such a monumental Philadelphia event is also her last, at least as a staff writer. Last night was her going-away party -- after working at the paper for close to four decades she's taken an early retirement to focus on her second career as an artist. Good for her -- but the disapora of top-notch experienced journalists in Philadelphia is also creating a civic memory loss that will be hard to deal with, regardless of how many talented newcomers show up.
Have a great weekend -- there's a lot going on in the world and this is a place where you can talk about it.