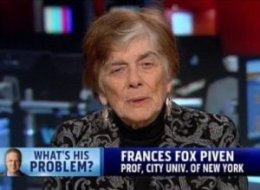 Blogger's note: It's been a few years since we had a guest post here at Attytood, but here's a GUEST POST written by my friend and colleague Sandy Shea, the editorial page editor of the Daily News. She went up and over the Delaware River today to catch anti-poverty expert Frances Fox Piven, and her report goes something like this:
Today, Rutgers-Camden's Center for Urban Research and Education hosted Frances Fox Piven, whose status and occupation can best be described by the title of her most recent book: "Who's Afraid of Frances Fox Piven: The Collected Writings of the Professor Glenn Beck Loves to Hate."
Piven, who is Distinguished Professor of Political Science and Sociology at the Graduate Center of the City University of New York, is, among poverty experts, a rock star. Although Glenn Beck has demonized Piven for her encouragement of the poor and unemployed to mobilize, there were few haters in the crowd of about 40 students and faculty where Piven spoke about "Poverty Policy and the Politics of the Poor," a tragically short session lasting about an hour. Highlights of her talk: For the past three decades, our policy approach to poverty has consisted primarily of scrutinizing the poor themselves, and their attitudes and habits. In fact, the political economy is responsible for the persistence and increase of poverty.