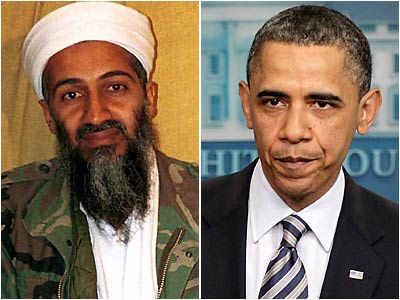 The date could not have been any more ironic.
It was May 1, 2003, that President George W. Bush -- in full flight-suit bravado -- appeared on a battleship off the San Diego coast to declare a "Mission Accomplished" in what the White House called its war on terror, marking what was declared as the end of major combat operations in Iraq.
Never mind that more than 4,000 U.S. servicemen and women and untold thousands of innocent Iraqi civilians would die in the years of non-stop violence to come, or that Iraq had nothing to do with the 9/11 attacks that had caused America to mobilize against terrorism in the first place, or that the mastermind of the 9/11 attacks, Osama bin Laden, was very much still at large.
Now, on May 1, 2011 -- eight long years later -- President Obama, who was an obscure state senator from Illinois when al-Qaeda attacked the United States in 2001, stunned the nation and the world with the long-awaited news that bin Laden is dead, killed in a dramatic CIA operation in a Pakistan compound.
Perhaps fittingly, it was the Cradle of Liberty that quickly became the epicenter of a global celebration, as more than 45,000 fans at sold out Citizens Bank Park began spontaneously chanting "U-S-A, U-S-A" as smartphones lit up with urgent emails and a joyous murmur built. Minutes later, a fast-growing throng that gathered around the White House fence broke into "The Star Spangled Banner."
This time, it really was a mission accomplished.
A mission accomplished.
But not THE mission accomplished.
After all, bin Laden's death does not answer the question of what to do with more than 100,000 American and allied troops still fighting an ill-defined guerillia war in Afghanistan -- some nine-and-a-half years after the first troops were sent there in the hopes that overthrowing the Taliban would also quickly yield bin Laden and other leaders of his terrorist network.
Nor does bin Laden's death offer any insight over what to do about the mess of the prison camp at Guantanamo Bay -- which became a global stain on America's reputation in the years following the Afghanistan invasion, and which Obama has been unable to close despite promising to do so on the second day of his presidency.
Indeed, America remains vigilant from a potential new generation of terrorists who had nothing to do with 9/11 and has not been guided or even inspired by bin Laden for some time, but who joined the fray to protest the U.S. actions in Iraq, Afghanistan, and Gitmo.
Bin Laden's death changes none of that -- but it does give America and its battered psyche something that has been so elusive over a downbeat decade.
Justice.
For nine years and eight months, the families of the nearly 3,000 citizens who died at the World Trade Center, the Pentagon, or aboard Flight 93 that crashed in western Pennsylvania have seen their suffering compounded by the maddening fact that not only had bin Laden eluded the world, but that none of the other perpetrators have been tried or convicted for their cowardly crime.
The death of Osama bin Laden, a mass murderer on an unthinkable scale, is not only just but long overdue -- a real mission accomplished for decent people everywhere to celebrate today. We can worry about the rest of it tomorrow.