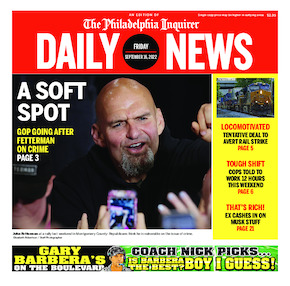 When you've been in the newspaper business for nearly three decades, things that once would have been a huge thrill, like writing a front-page article, aren't quite as exciting as they used to be. However, I do still get jacked up every few years when they take my suggestion for a front-page headline....as they did with "Domonation."
Of course, you could quibble whether a rookie getting two hits in his first game is exactly, um, domonation, but we're a tabloid. We're supposed to be over the top!
It wasn't my idea to have Domonic Brown gawking at a Sexy Single, though.
UPDATE: WOW!!!!
The Phillies have completed a three-player trade with the Houston Astros for righthander Roy Oswalt.
Lefthanded pitcher J.A. Happ, outfielder Anthony Gose and infielder Jonathan Villar are going to Houston.