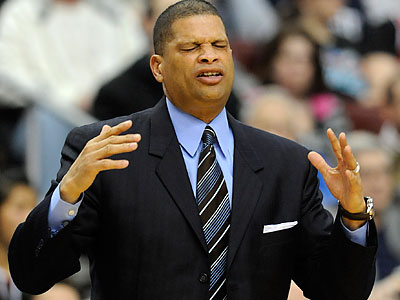 So I guess whoever had 11 hours in the "how long after the end of the season will the 76ers fire Eddie Jordan" poll is victorious. Huzzah. Why the man who insanely brought the hapless Jordan here in the first place -- and who squandered the Sixers' one-and-only chance to get an impact player on the likeable-but-washed-up Elton Brand -- is still employed is a complete mystery.
What can the 76ers do? Clearly, they should look into moving Brand, Iguodala, and Dalembert; of those, only Iguodala probably has a chance of going anywhere. Of the "young nucleus," only Jrue Holiday looks like a guaranteed NBA star, which is one small step -- it's still too early to know about Marresse Speights, Thaddeus Young and Lou Williams but none of them seemed to be moving in the right direction in the short-lived Age of Jordan. Is there hope for this team? Not really. The thing that's most lamentable about the NBA these days is that teams become championship caliber not based upon their grit but by being in the right place at exactly the right time -- ask the Cleveland Cavaliers how that works. I love sports but I can't stand gambling -- but that's what the NBA is these days, one big lottery.
Tied up on a Daily News story and other matters, so we're back in Open Thread Land for the day. Discuss the life of Riley (no basketball pun intended) enjoyed by all those freeloading working class Americans who aren't paying their taxes today.