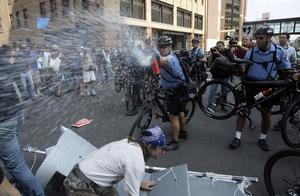 Keeping America safe from the evil Associated Press:
If police and protesters skirmish around the Republican National Convention, count on Philadelphia Associated Press photographer Matt Rourke to be in the middle of the action.

He was rewarded for his efforts Monday by being doused with pepper spray, knocked down and arrested by St. Paul police.

Rourke was shooting photos of the protesters at a parking lot at 7th and Jackson streets, in downtown St. Paul, when police converged from three directions on protesters that they regarded as particularly troublesome.

"We were encircled, and as I moved toward the officers in front of me in a passive manner, my legs were taken out from behind in an aggressive manner," Rourke said yesterday after 12 hours in jail.
That's why we all need to condemn this unnecessary abuse of power by the police in St. Paul -- there's no excuse for confusing a newsman doing his job with actual lawbreakers. If it could happen to a regular Philly guy like Matt Rourke, it could happen to you.