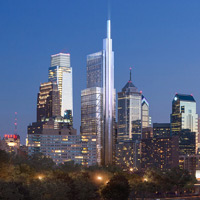 It was just a couple of days ago that I was reading an alarming allegation about Philadelphia's largest corporation, Comcast. Customers of the nation's largest cable and Internet provider in different corners of America were reporting the same problems with loading and watching movies on Netflix. (And right when the new season of "House of Cards" is looming?...are you kidding me?). The customers all voiced the same concern that Comcast --, with its own movie-on-demand service that (poorly) competes with Netflix -- wants to throttle its rival and speed up growth of its own service.
After all, it was just last month that a court struck down a key FCC rule that had protected "net neutrality" -- the notion that cable providers should treat all websites equally and not play favorites, or, potentially in the case of Comcast and Netflix, un-favorites. Now Comcast has completely denied that throttling of Netflix is happening (despite the chart with this article showing much slower speeds), and with good reason, as it promised federal regulators that it would honor net neutrality through 2018 as part of winning their approval to swallow NBC-Universal.
I don't know the reality of what's happening (ask me after I try to binge watch "House of Cards" over my Comcast Internet this weekend) but I do know our fears are very, very legitimate: That in any era where access to digital information is essential to citizenship, there is great danger in concentrating too much power over that information in one corporation.